Message from Chief Executive, Alan Russell Thursday 13 January 2022
I would like to wish you and your families a very happy new year and for those who have had time off, a warm welcome back. I hope you all managed a break and some well-deserved rest over the festive period, after what has been another challenging year.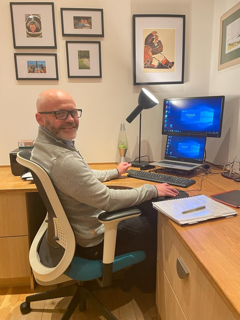 I would also like to thank all our colleagues who worked tirelessly throughout the festive period and will continue to do so over the winter, providing a wide range of round the clock services so many in our communities rely on. This includes our roads and gritting teams, emergency repairs and our Health and Social Care Partnership colleagues who continue to support the roll-out of the vaccination and booster programmes.
I would also like to thank our colleagues who volunteered to support the delivery of these essential services over the festive period, as part of our contingency planning for a temporary reduction of available workforce due to anticipated illness or self-isolation due to COVID-19.
We expect the coming weeks to continue to be very challenging for our local services. If you would like to find out more about how you can support our response please speak with your line manager in the first instance.
The Scottish Government has now confirmed changes to the guidance on self-isolation for positive cases and for close contacts, including household contacts. For the latest information please visit NHS Inform guidance on self-isolation
The risk of getting a false positive on a Lateral Flow Test is very low - about 3 in every 10,000, and I would encourage you all to regularly test for COVID-19 using Lateral Flow Tests, and if your role involves home visits, please remember to test daily, and record the results online. Free test kits are available to order online and through local pharmacies and testing centres.
Despite the increase in hospital admissions, there is growing optimism that the rate of infection is slowing and the protections and your actions in following the guidance and getting your booster vaccination have made a positive difference, so thank you and please stick with it.
I know how difficult it's been for many people, and it's no surprise if you don't feel great from time to time, maybe even more so at this time of year. What is important is that you speak to someone about it and whether that's a friend or a colleague, please know we are here to help, and have a wide range of support available whatever the circumstance. Check out our wellbeing hub to see what's available and please speak to your line manager if you need help. Keep an eye on our social channels over the coming days for more resources to support your wellbeing.
As restrictions hopefully start to ease over the coming weeks, I'm planning to get out to meet some of our teams to hear more about your experiences and find out what's important to you. While that's a priority for me, I'm sure many of you will have questions of your own and I would like to start that conversation by inviting you to ask me anything. I'm calling it 'Ask Alan' - your opportunity to ask me a question - or more than one - on any topic by either email or text message and I'll do my best to answer.
Send your questions to the internal comms team by Friday 28 January and watch this space for details on my reply. To submit your questions, simply email internalcommunications@renfrewshire.gov.uk with the subject 'I would like to Ask Alan...'or send a text with your question to +447985715099.
We are all hopeful of a brighter year ahead, and I look forward to working with you in the coming months as we learn to live with COVID-19 and continue to support each other and the people and communities who rely on our services every single day.
Thanks
Alan