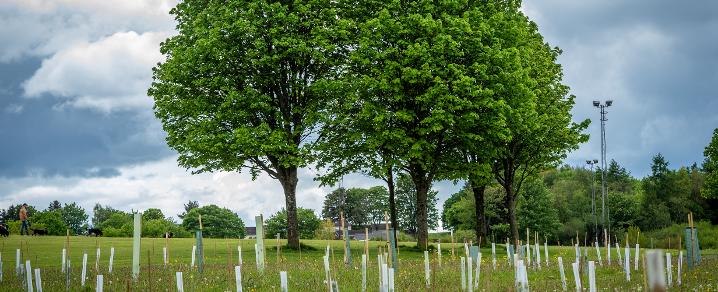 Community involvement top of the agenda as the Renfrewshire Climate Panel meets for the first time
Local communities are having their say on Renfrewshire's response to the climate emergency as the Renfrewshire Climate Panel met for the first time last week
Renfrewshire Climate Panel
A representative panel of local citizens has been created to look at climate issues, discuss how this affects people locally and help identify what actions can be taken to support Renfrewshire's drive towards net-zero by 2030.
Council officers took panel members though a short presentation on the actions taken in Renfrewshire so far, why the Climate Panel has been established, what the area's plan is towards a net-zero Renfrewshire - as well as a wider presentation on the global issues around climate change.
Members were then invited into a discussion to put forward their views and opinions on Renfrewshire's current position in relation to climate change and what could be done on a local level to improve this.
Online sessions took place in the afternoon and evening to ensure as many people could attend as possible, and the panel hopes to meet on an initial monthly basis to discuss the way forward for Renfrewshire.
Panel member George Houstoun said: "I put my name forward to be part of the Climate Panel because I have an interest in the environment both locally and internationally, which includes keeping my local area tidy and recycling where possible.
"I want to encourage the local authority to provide more safe cycle routes and would like to encourage them to provide access to ebikes for all too.
"I realise I am asking for a lot from my membership of the Climate Panel, but I have to start somewhere, and I might as well be ambitious for the sake of my children and grandchildren."
Renfrewshire Council Leader
Renfrewshire Council Leader Iain Nicolson said: "It's fantastic to see the Renfrewshire Climate Panel up and running as we know that for us to make a real difference, we need to have everyone with us on the journey to net-zero.
"This means the Council, the community, businesses and all others who contribute to climate change - we need to work together.
"As we prepare our Plan for Net-Zero, community involvement will be key and I look forward to hearing the views and opinions of the members of the Panel as this will help shape all our decision making moving forward."
The Council's work to tackle climate change
In 2019, Renfrewshire Council declared a climate emergency in Renfrewshire and a working group was set up with members of all political parties to make recommendations on how to make Renfrewshire net-zero by 2030, which has now been formalised as the Climate Change Sub-Committee.
The Climate Change Action Fund has been created to support innovative projects and initiatives being developed by Council services in response to the climate emergency, with an initial £1million committed to a range of research, feasibility and immediate projects.
Find out more about the Council's work to tackle climate change.
Published 16 November 2021.