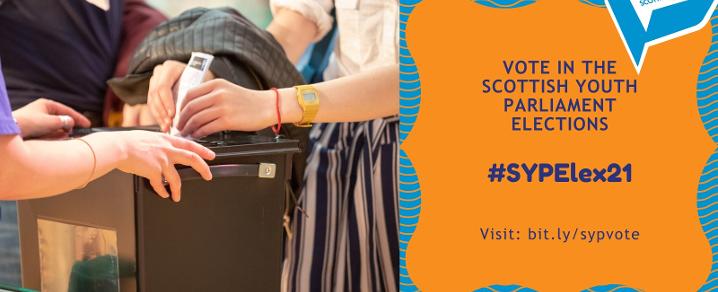 Voting is now open for young people to represent Renfrewshire in the Scottish Youth Parliament
Young people across Renfrewshire are campaigning to become Members of the Scottish Youth Parliament (MSYPs) as voting is now officially open for the 2021 Scottish Youth Parliament (SYP) Elections.
What is the Scottish Youth Parliament?
The Scottish Youth Parliament is the democratically elected voice of Scotland's young people, providing a national platform for young people to discuss issues important to them and affect the change they wish to see locally and nationally.
It has been influential in helping secure votes for 16-year-olds in Scotland, been a key voice in the campaign for equal marriage and recently delivered the Pack it up, Pack it in campaign tackling pollution, reducing single-use packaging and improving recycling.
How do I vote in the 2021 Scottish Youth Parliament Elections?
Held every two years, voting is now open for the 2021 SYP Elections, with MSYP candidates standing in the Paisley; Renfrewshire North and Renfrewshire South constituencies.
Young people aged 12-25 can cast their vote online before the voting period closes at 3pm on Sunday 21 November 2021.
Voting is through the Young Scot e-voting system and voters will need to have a Young Scot National Entitlement Card.
Renfrewshire Council's Youth Services team are also running sessions across Renfrewshire schools to promote voting, with temporary card numbers available so all pupils can take part.
There's more about the elections, how to vote and details of the candidates standing in Renfrewshire on the Young Scot website.
Hear from our Young Persons Champion
Councillor Michelle Campbell, Renfrewshire Council's Young Persons Champion, said: "It is so important for young people to have their voices heard and throughout my time at the council I've had the pleasure of meeting the MSYPs representing Renfrewshire and have seen first-hand how passionate and talented they are, helping to drive change across the local area and contribute to national issues.
"I wish every candidate well and would urge young people aged 12-25 to read about the candidates standing for election and cast their vote."
Published on 9 November 2021