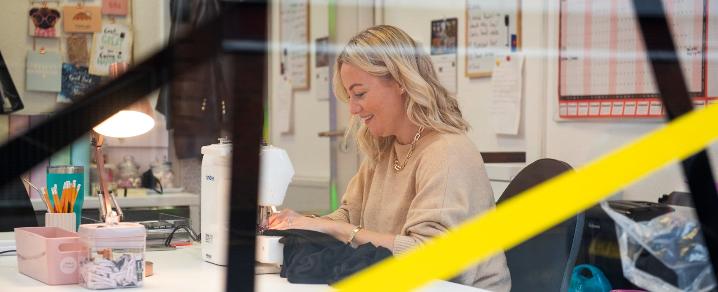 Jayne's lockdown business is ahead of the curve
"It sometimes feels like I'm living a dream and it'll all stop tomorrow," says Jayne Lasley.
It's not the words you'd expect from someone who lost her job during the pandemic.
But for Jayne, 42, a garage clear-out during lockdown led to the birth of her fashion business, something she's dreamed of doing ever since her Park Mains school days.
"I've always been fashion-conscious - I think it started when I asked if I could sew shorts instead of a tea towel during Home Economics.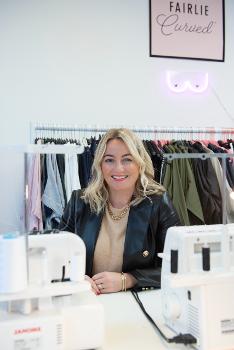 "I studied Textile Fashion, Design and Management at university and in my final year I made a collection called Fairlie Curved, creating clothes for women with bigger boobs as Fairlie is my maiden name and being 5 foot 3, with a small back and large chest, it's always been a struggle to find fashionable clothes that fit.
"I went onto work as a fashion buyer with Internacional and New Look amongst others and returned home to Langbank as I wanted to start a family. After having my family, I had a career change and then lost my job during the pandemic.
"I'd found myself cleaning out the garage and came across my old uni designs for Fairlie Curved and it reignited my interest. I started a styling page on instagram offering people hints and tips and within weeks I had thousands of followers, the reaction was incredible.
"People kept asking me if I had a shop and I thought well I've lost my job and I've always wanted to run my own business so why not."
Starting out in a spare room, Jayne's Renfrewshire Council Business Gateway adviser recommended she take a look at Start-Up Street in Paisley, an enterprise centre providing low cost workspace and onsite support, set-up by the Council in partnership with Launch It.
As Jayne found out, it's been the perfect fit.
She says: "Moving to Start-Up Street has been incredible for me. It's daunting to lease commercial premises, but Start-Up Street took all that worry away.
"It's great the workspaces are a blank canvas and there's mentoring and webinars for you to sign up for and it's lovely to be able to share advice and chat with other new business owners based here too."
Alongside a burgeoning range, Jayne is using her business to support the early detection of breast cancer, linking with a charity to provide information and donating proceeds from t-shirt sales to the cause.
Jayne says: "The business has gone from strength to strength, the feedback from my customers is fantastic and I'm adding more ranges all the time. What next is the million-dollar question, I'm investing in more stock and expanding my range of products and sizes. It's just me doing it all with help from my mum to pack the orders, so I'll look at options to build a team and continue to grow."
Jayne's clothing range is available online and she's also developed a range of products on sale at the InCube shop on Paisley's Gilmour Street.
Published on 9 November 2021.