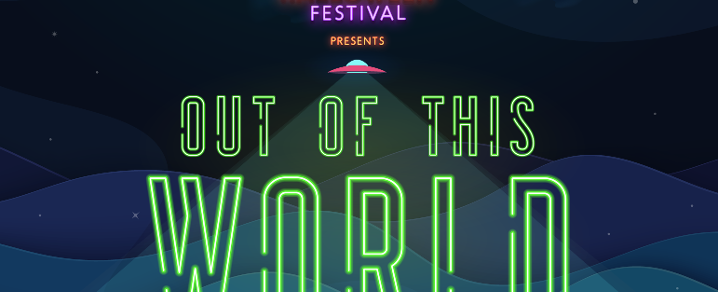 MEDIA RELEASE: Paisley's 'Out of this World' Halloween celebrations return this week
Paisley's award-winning Halloween celebrations return this week - but with a twist for 2021.
This year, Paisley Halloween Festival presents Out of this World - a free, spectacular trail featuring installations and light displays centred around Paisley Abbey, Town Hall and the White Cart River.
The town centre will be transformed into an immersive 'otherworldly' experience across five-days from Thursday 28 October until Monday 1 November - illuminated from 5pm-10pm for visitors to enjoy safely at a time that suits them.
Visitors will be able to marvel at a series of twelve installations and light shows, including an alien invasion, rockets and spacecrafts, creatures from the deep and a constellation of stars.
The family friendly trail will take approximately an hour to walk around and is accessible for all abilities. Event goers can pick their own starting point, map their own journey and set their own pace round the intergalactic showcase.
There will be no parade at the event but this year's Paisley Halloween Festival will be a journey that will take you out of this world!
Paisley Halloween Festival is supported by EventScotland through Scotland's Year of Coasts and Waters 20/21 and Scotland's Events Recovery Fund.
To celebrate the Year of Coasts and Waters 20/21 the area around the town's White Cart River will be transformed into the centrepiece of the Out of this World experience. Talented artists have been commissioned to develop stunning installations that will shine a spotlight on the river that runs through the heart of the town - making it a must-visit spot on the trail for locals and visitors.
Spectacular displays which will dazzle visitors include 'Nova' and 'Ursula Lassos the Moon', created by Studio Vertigo. The 'Nova' sculpture is based on the mystical Star of the East, which astronomers now believe was actually a nova - while the mysterious and enchanting 'Ursula Lassos the Moon' structure will be found on the White Cart River itself, showcasing the divine beauty and spiritual power of the Moon.
Mike Jones' 'Orionids' installation will echo the breath-taking beauty of a meteor shower cascading across the White Cart River, creating an enchanting web of light on the water.
Inspired by the twin Voyager 1 and 2 spacecrafts launched into space by NASA in 1977, Mick Stephenson's 'Earthship1' is a strong symbol of hope for a brighter, more sustainable future. The spacecraft will contain a special cargo of hopeful messages and artwork created by young people and community groups across Renfrewshire, who have imagined a positive future for the planet. The artworks, which take the form of colourful dioramas, will be on display in the body of the spacecraft for visitors to see.
The trail is being delivered by Renfrewshire Council and curated by sustainable, not-for-profit street theatre specialists, Cirque Bijou.
Pauline Allan, Events Manager for Renfrewshire Council, said: "We are looking forward to hosting our Halloween celebrations again in Paisley - and this immersive trail will offer a twist to our annual Halloween Festival.
"We're delighted to be working with Cirque Bijou and so many acclaimed artists to transform the town centre with these spectacular installations and light displays - which will really come to life when it gets dark. The festival is taking a different shape this year, but we promise there will be lots of exciting and surprising elements that will be Out of this World!
"The trail will be available for everyone to enjoy across five days, with more opportunity for locals and visitors to experience the fun in a safe way and at a time that suits them. We encourage everyone visiting to share their stunning photos with us by using #paisleyhalloween or tagging @paisleyhalloweenfestival on Instagram."
Paisley Halloween Festival is widely regarded as one of the best events of its kind in the UK - and was named Best Cultural Event or Festival at the 2019/20 Scottish Thistle Awards West Scotland regional finals, organised by VisitScotland.
To find out more about Paisley Halloween Festival presents Out of this World, please visit https://paisley.is/featured_event/halloween/
Published 25 October 2021