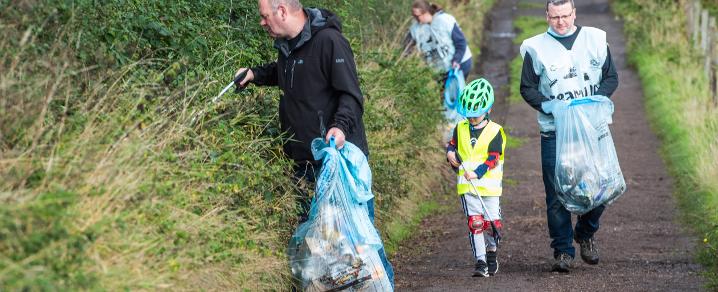 Our Spotless September hosts more than 430 litter picks - that's more than 14 every day!
A sensational Spotless September has seen more than 430 litter picks take place in Renfrewshire as the joint community and council campaign Team Up to Clean Up continues to grow.
More than 2,500 bags of litter have been collected by almost 1,500 volunteers throughout the month-long Spotless September which has now become an annual fixture in our ongoing environmental campaign.
Across the month, community groups, businesses, schools and lone volunteers have been out in their local areas making a difference and injecting a new sense of civic pride in Renfrewshire.
How did the Council support Spotless September?
As well as supporting the volunteers by providing sanitised equipment, providing safety advice and collecting the bags of litter after each litter pick, we have been out at 16 schools during September to educate the next generation of the dangers of litter to the local environment.
Young people have been inspired to take their litter home with them, challenge their classmates who drop litter and even convincing their parents to join them on litter picks once they get home.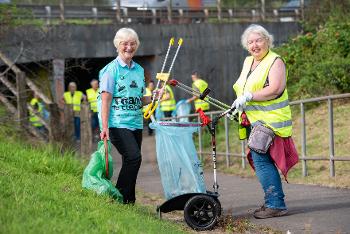 Councillor Cathy McEwan, Convener of Renfrewshire Council's Infrastructure, Land and Environment Policy Board, said: "The Team Up to Clean Up campaign is fantastic as it brings the community and the Council together to tackle the environmental issues that we face in Renfrewshire and we work with each other to resolve them wherever we can.
"Changing attitudes to littering takes time, as does removing litter thrown away over many years, but it's heartening to see the difference we are making to Renfrewshire and I can't thank the volunteers and our StreetScene team enough for the work they do.
"Our StreetScene team post into our online Facebook community when collecting bags or fly tipping and it is a great example of how well the volunteers and StreetScene are working together to make our communities safer, cleaner and more attractive.
"I look forward to Spotless September every year, but now it's over I can't wait to get back out there and keep making a difference to my community - why don't you join me and the thousands of other volunteers too?"
What is Team Up to Clean Up?
The award-winning Team Up to Clean Up campaign brings the Council and community together to improve Renfrewshire's local environment, with a £2.5million investment by the Council in additional road sweeping, fly tipping removal, litter picking, and gully cleaning enhanced by litter picking carried out by dedicated volunteers from the local community.
Since it launched in 2017, the area's street cleanliness has improved significantly - with the area now being well above the Scottish average and moving from 26th in Scotland to 13th last year.
For more information on the campaign, including how to take part, visit Team Up to Clean Up or join more than 3,200 members on our Facebook group.
Published 30 September 2021.