Renfrewshire employers are helping young people's job prospects
Employers across Renfrewshire - including within the Council - have created more than 500 different job opportunities for young people since the outset of the pandemic.
There's employer incentives, training and funding available to help companies and if you think you could create a job for a young person and take on staff then call our employability team Invest in Renfrewshire on 0300 300 1180 or email ypguarantee@renfrewshire.gov.uk.
Here's the story of how one Renfrewshire business is doing just that, through the Young Person's Guarantee Employer Recruitment Incentive.
Paisley business boosts Taylor's plumbing prospects
Mike Anderson has been running Anderson Floor Warming and Renewables since 1998, designing, supplying and installing cutting edge technology including underfloor heating, heat pumps, solar thermal and plumbing systems.
His 23-strong team supply houses, schools and commercial properties (they even fitted the snow cooling system at the Snow Factor slopes).
Earlier this year, Mike moved his entire operation to Paisley, a return to his roots for the Kilbarchan resident.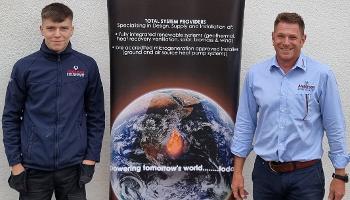 But the business was hit hard by the Covid-19 pandemic, with turnover halving and all staff furloughed except Mike.
"It was absolutely horrendous," says Mike "I've never worked so hard in all my life, mentally it was a real strain as the sole director and owner. "I worked around the clock within the guidelines to manage the customer base then gradually I was able to get our design engineers to work from home and then our site engineers returned to do socially distanced work.
"Before the pandemic I'd put an offer in for the building in Paisley and I ended up moving the entire business on my own. It made sense to move closer to home, and there's good motorway links, while the new building suits our needs well."
Aided by a Council discretionary grant helping companies most impacted by the pandemic and ineligible for other government funds, things are picking up now.
In the past month, the business has returned to pre-pandemic levels, while Mike has taken on two new full-time staff and hired teenager Taylor Herd through the Young Person's Guarantee Employer Recruitment Incentive.
Mike explains: "Normally we would take on an apprentice as it's important we bring on the next generation. We worked with the employability team at the Council to recruit Taylor, who'd completed a pre-apprentice plumbing course and has the right attitude, wanting to work and gets on well with the other engineers.
"The recruitment incentive is a more viable way to take on new employees, letting us see if they suit the position and helping bring young blood into the industry."
Former St Andrew's Academy pupil Taylor is enjoying his new role and is keen to secure an apprenticeship.
The 19-year-old from Glenburn says: "I wanted to be a footballer when I left school [Taylor is currently a goalkeeper with Arthurlie's development squad] but I want to get an apprenticeship too, go to college and look after my future.
"The job is good, especially earning a wage and the guys there have helped me a lot. After school I worked in KFC, but plumbing really interested me, that and joinery and I completed a pre-apprentice plumbing course at West College Scotland.
"The Council's employability team told me about this job and really helped me out, keeping on my case to apply and helping with my CV. Getting up at half 5 in the morning isn't easy, but I'm working hard and have shown I want to learn."
Published on 7 September 2021