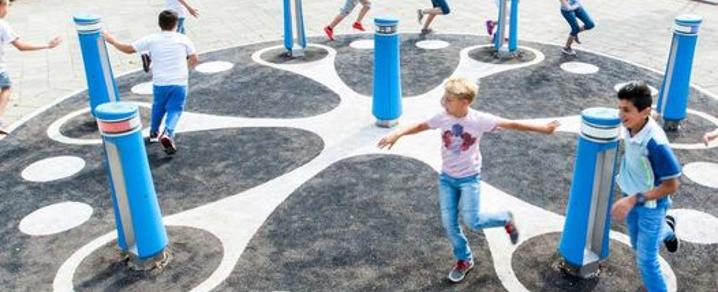 MEDIA RELEASE: 'Most innovative play area in Scotland' set to open in Renfrewshire
Young people in Bargarran will be among the first in Scotland to experience new interactive play equipment as a brand-new play park opens on Sunday 23 May.
Budding DJs will be able to take to the outdoor decks and sound system, dancers can head to the new dance arch and gamers can use the activity zones which have games on seven different screens.
Designed to be a central community resource, the new park will open its doors on Sunday and invite young people in to test out the new equipment, with the team behind the park, Erskine Youth Council, on hand to teach others how it all works.
All visitors are asked to ensure that all public health measures continue to be followed in line with ongoing Coronavirus pandemic, including the limits on meeting up in groups and physical distancing measures.
Beth, Vice-Chair of Erskine Youth Council, said: "I'm so excited that the play park is about to open as it's a project we've worked long and hard to achieve, so we are excited to see it finally coming together.
"It's something totally new and different to the area and lots of different people will be able to use and enjoy it."
The activity zones on site offer interactive games which can be played individually or as a group, while a zip wire, seating areas, a shelter and outdoor gym equipment will also be available - all key asks from young people as part of a consultation run by the Youth Council.
Councillor Michelle Campbell, Renfrewshire Council's Young Persons Champion, said: "This is a fantastic addition to Bargarran and I can see it being hugely popular with young people from across Renfrewshire and beyond.
"The new interactive equipment makes it an exciting place to visit, whether that's to use the DJ decks, dance arch or even just chill out in the new shelter.
"It could not have happened without the great work of Erskine Youth Council and our Youth Services team, and its brilliant to see young people so enthusiastic to make the lives of their peers better. I'm delighted our funding could help make the play park a reality."
Funding for the new park was achieved through a £50,000 grant from Renfrewshire Council's Green Spaces, Parks and Play Areas and Villages Investment Fund, as well as £110,000 allocated by the Council to replace the former MUGA at the site of the new primary school joint campus in Bargarran.
Councillor Marie McGurk, Convener of Renfrewshire Council's Communities, Housing and Planning Policy, said: "Our Green Spaces, Parks and Play Areas and Villages Investment Fund has given people the chance to make real differences to their community by identifying what they need and working with us to deliver their projects.
"This is a prime example and what a fantastic facility the young people of Bargarran now have in the area and I must congratulate Erskine Youth Council for being the driving force behind it, with the support of our Youth Services team."
The play park has been designed by working closely with leading play equipment designer and supplier Jupiter Play & Leisure Ltd., and international manufacturer Yalp Interactive.
Michael Hoenigmann, Jupiter Play Managing Director, said: "We are delighted to have been chosen to deliver the new play area at Bargarran.
"It is the most innovative play area in Scotland and includes three interactive products which are sure to be a hit with the local community.
"These exciting new products blend the excitement of gaming with the joy of outdoor play and there is even an outdoor DJ booth for the teenagers, so I'm sure the local kids will have hours of fun on this new play space."
For more information on the Green Spaces, Parks and Play Areas and Villages Investment fund, visit www.renfrewshire.gov.uk/GreenSpacesFund.
Published 20 May 2021.