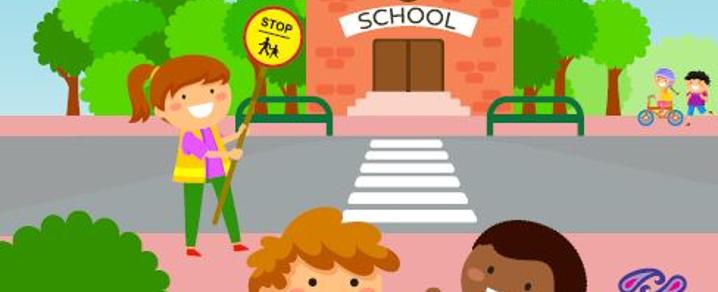 We're launching a pilot aimed to improve safety around four Renfrewshire schools
Four Renfrewshire schools will pilot a vehicle exclusion zone during the school run with the aim of improving safety around the school gates for pupil, parents and carers.
The aim of the pilot is to solve congestion issues, reduce emissions, ensure the safety of children around schools, and encourage active travel with pupils walking, wheeling or cycling to school.
So what's happening?
The pilot is set to begin on Monday 19 April at Barsail Primary, Lochfield Primary, St Catherine's Primary and St Charles Primary and will see vehicles unable to enter surrounding streets during restricted times.
On weekdays, between 8.30am and 9.15am and 2.30pm and 3.15pm, vehicles will be unable to enter Brabloch Crescent and Netherhill Road at St Catherine's, Rowan Street and part of Thrushcraigs Crescent at St Charles and Quarry Road at Lochfield.
The same will apply to Park Moor at Barsail with slightly different times of 8.30am-9.15am and 2.45pm-3.30pm.
Exemptions will be in place for residents within the affected streets and school staff via a permit system, as well as automatic exemptions for blue badge holders, the emergency services, school buses and transport, postal vehicles and other similar essential travel.
Anyone who has to drive to school should park safely away from the school and walk the final part of the journey.
An experimental Traffic Regulation Order (ETRO) will be in place during the pilot and Police Scotland will be able to issue Fixed Penalty Notices to anyone found driving in these streets during the restricted times without a valid exemption.
For more information, and to apply for a permit, visit Safer Schools.
How did it come about?
Significant consultation took place around this project, with feedback received from elected members, head teachers, school staff, parent councils, parents and carers, community organisations and local residents.
This helped shape the design of the pilot, which will be regularly monitored and evaluated throughout, and the council will be seeking further feedback from all stakeholders during the pilot which is set to run until 31 December 2021.
Why is it a good thing?
Emma Henry, Head Teacher at St Catherine's Primary, said: "I'm looking forward to this pilot being introduced as we want to ensure it is as safe as possible for our children to go to and from school every day.
"By stopping vehicles entering these streets during certain times, we will reduce congestion and the risk of accidents, lower pollution levels and create a safer, healthier environment for our pupils to learn in.
"We want our parents and carers to think more about active travel, but above all improve the safety around the school gates during the school run."
Published 30 March 2021.