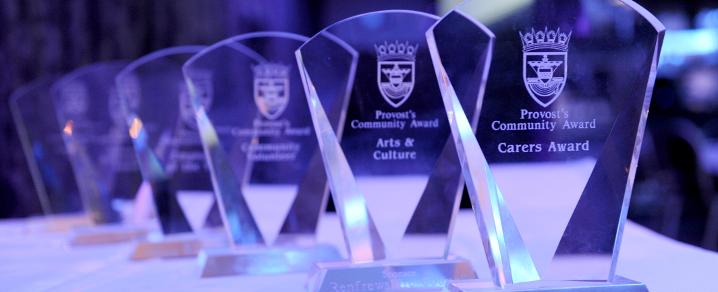 Provost's Community Awards 2021 winners
Here are the winners of the 2021 Provost's Community Awards.
Sporting Achievement (sponsored by ACRE Industrial Services) - Lewis Nicholson and Scott MacKinnon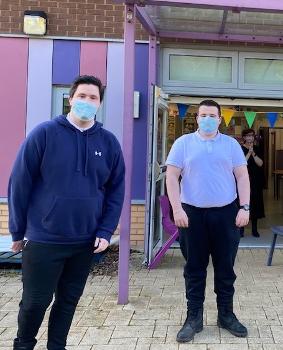 Lewis (left) and Scott (right) are senior pupils at Riverbrae School. In preparation for leaving school this year, they have taken responsibility for encouraging their fellow pupils, staff, and the wider school community to participate in sporting activities. Both Scott and Lewis have undertaken a sports coaching qualification delivered by Renfrewshire School of Sport Education (RSSE), attending weekly evening sessions to further their knowledge, and engaging in online training where meeting in person was not possible.
Scott said: "It's great to get this award and my family are really happy about this too. I worked hard and met new friends during the RSSE sessions. I want to keep doing sport when I leave school"
Lewis said: "It was a big surprise and I am really happy. Chris Cleary from RSSE asked if we would like to become a sports coach and it has been hard but good. Meeting new people has been great and I enjoyed the lessons we gave at school. I want to do more."
---
Community Group (sponsored by City Gate Construction) - Darkwood Crew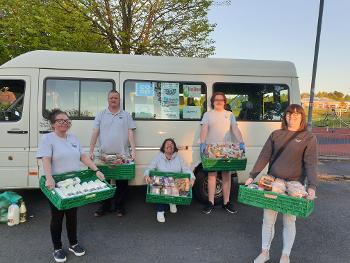 The Darkwood Crew are a team of local volunteers based in Ferguslie. As part of the council's Team Up to Clean Up campaign, the group have been involved in proactively improving and maintaining the area. During the pandemic, the team have worked tirelessly to address food insecurity, fuel poverty, isolation, loneliness and mental health by offering a delivery service for food and prescriptions for those who are shielding, and through innovative activities such as hosting a mobile Bingo Bus service.
Here's what the group had to say:
Terry McTernan said: "I am absolutely delighted that Darkwood Crew and its committed group of volunteers have been recognised in this way. The scale of the work this group have been responsible for, during a very difficult year, has been nothing short of remarkable both in terms of reach and scope. From the Social Isolation Bingo Bus to the Community Market and everything in between they have shown their ability to respond to their community's needs in a fantastically creative, innovative and inclusive way. Their one community approach is an inspiration to us all."
Mandy Chappell said: "This is brilliant. To be recognised for simply doing the right thing during a difficult time is wonderful. As a group of volunteers we never have any expectations in these things."
Barry Gilfillan said: "Darkwood Crew has given me purpose during lockdown. When I joined to help improve the village green I had no idea I'd end up being chased down the street and dubbed Bingo Bus Barry by local kids. I've thoroughly enjoyed playing my part in keeping the wheels moving for our community. To be recognised by the Provost is brilliant news for Ferguslie."
---
Arts and Culture (sponsored by Renfrewshire Council) - Calum Coutts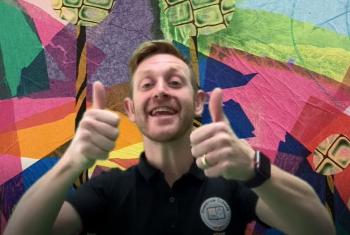 Calum is a teacher at Riverbrae School, which caters for pupils with ASN. He currently works within the senior phase of the school, with pupils from 14-18 years of age. Calum is a qualified art teacher and professional actor and incorporates all these skills and knowledge into his work. He works tirelessly to ensure no young person is left behind and that everyone has a voice - exploring new and exciting ways of using digital technology to enhance classroom practice, learning and teaching.
Calum said: "Often, when working with young people and peers, there is an assumption that 'the arts' are only for people who can draw, paint or perform. However when we start to explore more contemporary arts education such as ICT, image manipulation, photography, animations, film and video editing it becomes far more accessible as a subject area. As an art teacher in ASN education, I am passionate about involving all learners using these multi-media techniques. Thank you to the pupils for their talents and enthusiasm and to all the amazing support assistants, instructors, and management for embracing every project. It is a real honour to receive this award."
---
Carers Award (sponsored by former Provost Nancy Allison) - Rays of Hope Cancer Support Group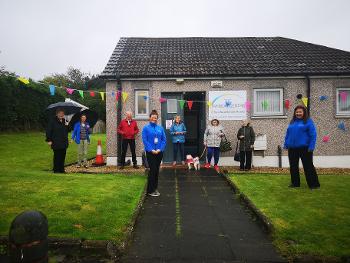 With their main building closed due to the Covid-19 pandemic, the team at Rays of Hope Cancer Support Group have kept in touch with members regularly via social media, collected shopping and prescriptions and offering help whenever needed. The majority of activities had to be cancelled, however members were encouraged to attend the walking group which was increased to twice weekly and adapted to accommodate different levels of ability - allowing for everyone who wished to attend. Despite the difficulties, support has continued to be available with members able to take part in activities via social media, Youtube and Zoom.
Founder of Rays of Hope, Linda O'Malley said: "Rays of Hope are humbled and delighted to have won this award. In today's climate there are so many people/groups worthy of receiving this award. Over the last year amidst the Coronavirus pandemic, we have seen people and communities come together like never before (apart from times of war) to help their fellow man. We have seen so many instances of love and care poured out from individuals and groups to the people of Renfrewshire, and we are so proud to be part of this."
---
Community Volunteer (sponsored by Glasgow Airport Ltd) - Mike Dillon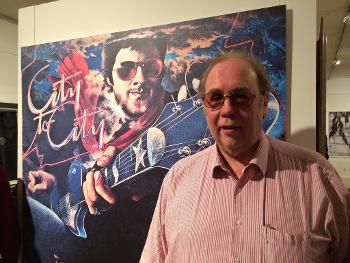 Mike was nominated for an award by his local primary school, St James Primary in Paisley. Through his input, children at the school have benefited from working on projects alongside local community groups and artists, and from opportunities through sport. He has helped the school address issues of poverty experienced by pupils and their families and provided opportunities for children to attend sports camps during school holiday periods.
Mike said: "To say I'm honoured to win this award is a huge understatement and it came as a huge surprise. The past year has put a huge strain on families and individuals, but in times of need you will always find folk to step up and contribute their time and effort to make things better for others. Every area of Renfrewshire has community champions who are unsung heroes, and I would urge people from across Renfrewshire to step forward and see what they can do for their area. There are so many ways that people can help make their community a better place to stay."
---
Employee of the Year (sponsored by UNISON Renfrewshire) - Brian Wilson, St Charles Primary School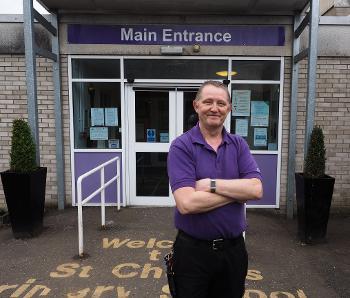 Brian is the Janitor at St Charles Primary School in Paisley, and is due to retire this month. On top of regular janitorial duties, Brian assists with the P7 yearbooks and the P7 annual show - working with the sound and lighting equipment, arranging soundtracks and capturing the show on camera to ensure each pupil has a DVD of their performance. The Parent Council at St Charles say Brian is a superb role model for all the pupils - patient, understanding, inclusive, firm, fair and diligent.
Brian said: "I'm blown away to even be nominated for a Provost's Community Award, let alone to win! I had a chance to read the nomination submitted by the Parent Teacher Council at St Charles and the memories really brought home how much I will miss everyone at St Charles now that I am retiring. It has been an honour and privilege to serve for the last 13 years as their 'Janny'.
---
Ingenuity in Business (sponsored by Provost Lorraine Cameron) - Gordon Kyle, Miller and McClure Opticians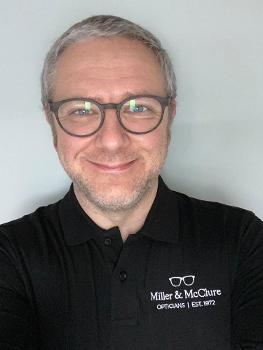 Gordon took over Miller and McClure Opticians in May 2019. During the initial lockdown period he ensured that significant numbers of patients were examined via telephone and video call, with his swift action and accuracy ensuring patients received urgent eye care for potentially sight-threatening problems on more than one occasion. Alongside delivering glasses, contact lenses and other eyecare products to customers, he often also delivered pints of milk, newspapers and magazines to those who were shielding or self-isolating.
Gordon said: "The pandemic has been a difficult time for everyone, but my motto has been 'It's nice to be nice' and the work that we have done has given me so much satisfaction and pleasure. I am proud and honoured to receive an award and will continue to go above and beyond in the future."
---
2021 award sponsors
The Community Group award is sponsored by City Gate Construction and celebrates the organisations in Renfrewshire that have a positive effect on their communities.
Sponsored by Glasgow Airport, the Community Volunteer award recognises those who give their time and effort for nothing more than the knowledge that they are making a difference to their community.
Award sponsor Acre Industrial will present the Sporting Achievement award to the person, team or group who have represented Renfrewshire to a high standard this year in the sporting arena.
Former Renfrewshire Provost Nancy Allison, who has been a part of each of the Community Awards since its inception, donates the Carers Award which recognises anyone who cares for a relative, friend or neighbour.
Employee of the Year is sponsored by UNISON and encourages nominations for employees who have gone above and beyond the call of duty for their employer.
The Arts and Culture award, sponsored by Renfrewshire Council, which seeks out the hidden, or not so hidden, gems who light up Renfrewshire's cultural scene.
The Ingenuity in Business award, introduced for 2021 to recognise businesses who have adapted to meet the challenges of the Covid-19 pandemic, is sponsored by Provost Lorraine Cameron, the current Provost of Renfrewshire.