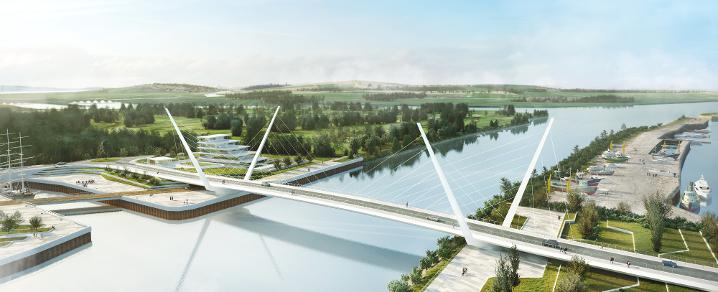 Major economic and manufacturing boost as multi-million Clyde road bridge contract approved
A £79.5million construction contract to build the first opening road bridge over the River Clyde and create new connections into Scotland's manufacturing innovation district has been approved for award.
Councillors from Renfrewshire Council's Finance board have agreed to award the Clyde Waterfront and Renfrew Riverside contract to civil engineering specialists, GRAHAM.
The project is jointly funded by the UK and Scottish Governments through the £1.13billion Glasgow City Region City Deal. It will support around 700 jobs during its construction and generate hundreds of subcontract and supplier opportunities.
The contract approval follows an extensive procurement process over the last two years, which considered in depth the technical expertise, carbon reduction activities, fair work practises and all the knowledge and experience required to deliver the project.
Civil engineering contractor GRAHAM, who have a waterfront office in Renfrewshire at Braehead, will deliver the main construction and provide more than 100 community benefits including jobs, apprenticeships, and community volunteering activities.
A twin-leaf swing bridge for vehicles, cyclists and pedestrians from Renfrew to the boundary between Glasgow and West Dunbartonshire forms the centrepiece of the project.
All planning consent is in place and construction is scheduled to start in Spring and take three years to complete, with the contract to be finalised later this month following conclusion of the procurement process.
Read more about the Clyde Waterfront and Renfrew Riverside project and how it will improve connections to Scotland's manufacturing innovation district AMIDS.
Read the full media release on the contract approval.
Published 5 March 2021.