LGBT History Month
February is LGBT History Month and a huge part of that is to teach young people about the history of the gay rights movement and to promote an inclusive modern society.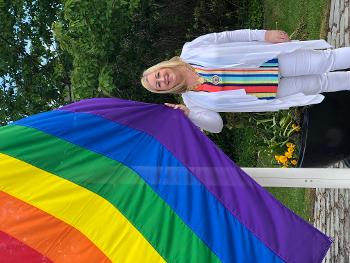 LGBTQ+ rights have come a long way in the last few decades, but often LGBT history is erased or simply overlooked. It's important that we continue to highlight the history of the movement and celebrate the members of our LGBTQ+ community here in Renfrewshire.
In May 2019 we raised the rainbow flag outside Renfrewshire House for the first time to mark the International Day Against Homophobia, Transphobia and Biphobia, and to highlight our commitment to ensure everyone in Renfrewshire is welcome and respected, regardless of their sexual orientations or gender identities.
The pandemic has meant the LGBTQ+ community are unable to come together to celebrate LGBT History Month in the usual way, however there are a variety of online events taking place and I hope that everyone has been able to join in with the programme. If you've still to take part you can see all the events that are taking place this week on the LGBT History Month website.
We have only got to where we are today thanks to the fights of previous generations. We remember their stories and hope their history will inspire our future.
Lorraine
---
Published 23 February 2021