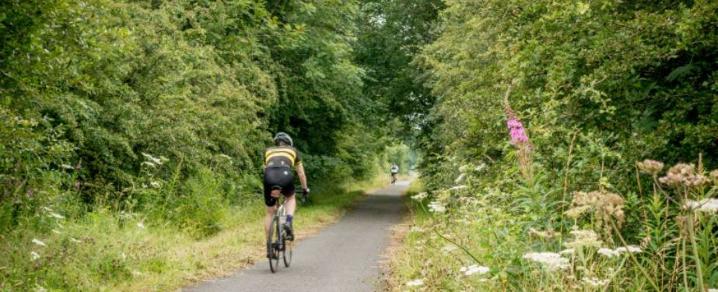 New walking and cycling route from Renfrew to Paisley secures almost £1million in funding
Plans to create a new walking and cycling route between Renfrew and Paisley have taken a huge step forward after we secured almost £1million in Scottish Government Funding.
The Renfrewshire Active Travel Route has been awarded £935,000 as one of 12 projects to receive funding from the Scottish Government's Clyde Mission Fund.
The route design was developed following consultation over a number of years with the public, local employers and community partners and is a main priority of the Renfrewshire Cycling Strategy 2016-2025.
The results of a tender process for the works will be presented to the Finance, Resources and Customer Services Board in March 2021 with the route aimed to be completed by the end of 2021.
Where does the route the start and end?
Running parallel to the White Cart, the 5km route begins on the banks of the River Clyde in Renfrew and links into existing active travel routes providing access to local businesses, parks and community facilities, before finishing at Paisley Gilmour Street train station.
It will provide a safe cycling and walking route between the two town centres for the first time in decades and will provide direct access to Westway Business Park, West College Scotland and the former Chivas site - the proposed location of the new Paisley Grammar community campus.
It will also connect to walking and cycling routes at the Advanced Manufacturing Innovation District Scotland (AMIDS) being developed next to Glasgow Airport via a new bridge at Wright Street.
What are people saying about it?
Renfrewshire Council Leader Iain Nicolson said: "Creating safe, accessible walking and cycling routes is a key priority for the Council and this route will not only link two of our largest town centres together, it will improve access to key sites across Renfrewshire including AMIDS, West College Scotland and Glasgow Airport.
"As we continue to develop Renfrewshire as an attractive place to live, work and visit, improving active travel routes for commuting and leisure will only further enhance the area's reputation and encourage businesses and employees alike to locate to Renfrewshire in the future."
Councillor Cathy McEwan, Convener of Renfrewshire Council's Infrastructure, Land and Environment Policy Board, said "The scenic route will encourage people to walk, wheel or cycle wherever possible which ties in with our aim to support healthy, active lifestyles for residents and visitors to Renfrewshire.
"I know first-hand that this is already a popular route for local people and it's adaptation into a permanent walking and cycle route will be a fantastic addition to the area. I look forward to it being developed in 2021."
How did the project receive its funding?
Formalised in the Programme for Government set out by the Scottish Government in September 2020, the Clyde Mission Fund offers £11.2million to local authorities in the Clyde Corridor to put the river at the heart of the area's place ambitions.
Successful projects have to contribute to inclusive economic growth, reduce carbon emissions or improve the environment, involve partners and communities in the project and show a real benefit to the local community.
Fiona Hyslop, Cabinet Secretary for Economy, Fair Work and Culture, said: "The Renfrewshire Active Travel Route, led by Renfrewshire Council, is one of 12 projects receiving over £11 million of support from the Clyde Mission Fund, creating hundreds of jobs, benefiting places and communities and supporting Scotland's environmental ambitions.
"Working with the public and private sectors, the Clyde Mission is driving forward a national, place-based, mission to make the Clyde an engine of sustainable and inclusive growth for the city, the region and Scotland.
"This is an opportunity to not only put the Clyde back at the centre of our economy and communities, but also at the heart of our plans for a net zero future."
Published 28 January 2021.