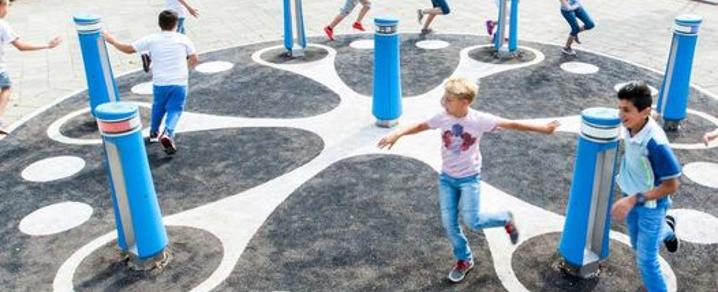 Scottish first as state-of-the-art interactive play equipment set to be installed in Bargarran
A brand-new activity area is set to become one of the most sought-after play parks in Scotland when state-of-the-art equipment is installed for young people.
For the first time in a Scottish play park, equipment will include an interactive DJ booth, dance arch and activity zones offering various games on seven different screens that support learning and activity for all ages.
The new activity area in Bargarran, Erskine has been designed to be a central community resource, where groups and families can come together and socialise safely outdoors and is being created thanks to a £50,000 award from Renfrewshire Council's Green Spaces, Parks and Play Areas and Villages Investment Fund.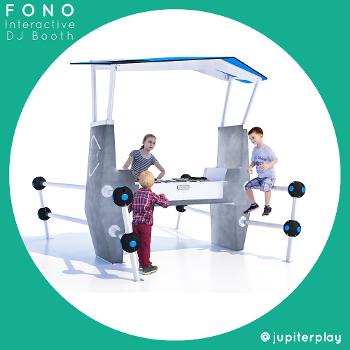 Young people will be able to play their own music through interactive decks where they can learn to beat match and mix songs with their friends and peers.
A number of activity zones will also be set up around the play area with interactive games they can play individually or as a group, while a zip wire, seating areas, a shelter and outdoor gym equipment will also be available - all key asks from young people as part of a consultation run by Erskine Youth Council (EYC).
Work to complete the project is expected to begin in March with the aim for it to be in place this summer - although construction will be subject to ongoing Coronavirus restrictions.
What are people saying about it?
Erskine Youth Council organise events, identify activities and develop opportunities to benefit young people in Erskine and deliver campaigns designed to create positive change for their whole community - and they will take a lead role in developing the play park into a social hub.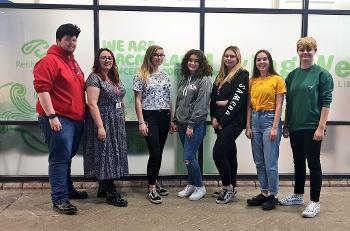 Graeme Wilson, EYC Treasurer, said: "We are over the moon that we received the additional £50k funding and can now go ahead with the building of the new Erskine activity area.
"This will bring about new and exciting ways for children, young people and their families to have fun and will also be an interactive play facility - the first of its kind in Scotland.
"EYC has been involved in picking the equipment to make sure it will fit the needs and wants of Erskine's youth and going forward our Youth Council will look after the activity play area, making sure all the equipment is up and running as well as monitoring what games are being played and the settings of the DJ booth.
"We look forward to leading on fun outdoor group activities using the play area equipment once it is built and open to our community."
The latest funding adds to the £110,000 already allocated to the project by the Council to replace the former MUGA at the site of the new primary school joint campus in Bargarran.
Councillor Marie McGurk, Convener of Renfrewshire Council's Communities, Housing and Planning Policy Board, said: "We're delighted that we are able to provide significant funding to Erskine Youth Council to ensure that this new, interactive play area can be developed.
"It will be one of the standout play parks in the country thanks to the state-of-the-art equipment that is set to be installed and young people have been at the heart of the process every step of the way. I can't wait to see their ideas become reality.
"The Green Spaces, Parks and Play Areas and Villages Investment Fund really has given local people of all ages the chance to change their community for the better and it's great to see the difference that it is making across Renfrewshire."
The activity area has been designed by working closely with leading outdoor play organisation Jupiter Play and the modern, interactive equipment was purchased from international playground equipment supplier Yalp.
Ian Smith, Regional Sales Manager at Jupiter Play, said: "It has been a pleasure to work with Renfrewshire Council. Designing play spaces that create a sense of wonder and engage an entire community is our aim as a business.
"I am delighted that we are delivering this really innovative project at Bargarran and the first one of its kind in Scotland as I know I will see people of all ages really benefiting from interactive play.
"It will be fantastic seeing people of all generations outside, having fun, staying active and socialising in their local park."
How do you find out more about the fund and apply?
For more information, including how to submit your application before the 31 March 2021 deadline, visit Green Spaces, Parks and Play Areas and Villages Investment Fund.
Published 25 January 2021.