Friends of Howwood Park aim to bring pavilion back to life
An unused pavilion in Howwood Public Park could be brought back to life for the local community as councillors get set to a consider an application for a Community Asset Transfer.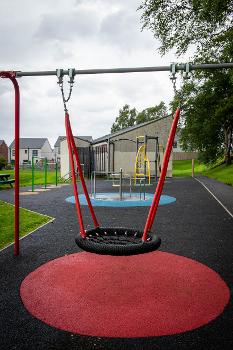 Friends of Howwood Park are seeking to take over the pavilion on a 10-year lease, with the aim of refurbishing it and bringing it back into community use.
What's planned?
They plan to carry out a full refurbishment of the building, as well as adding a disabled toilet and baby changing area.
Once complete, the group are aiming for it to be used as a changing facility for local teams using the adjacent football pitch, which has also been brought back into use, and as a social hub for parkgoers, such as local walking groups and youth clubs.
The group have already transformed the play park in Howwood Park with new, inclusive play equipment including new swings, a zip slide, roundabout, climbing frame and bike ramps, assisted by a £50,000 award from the Council's Green Spaces, Parks and Play Areas and Villages Investment Fund - and visitors numbers have significantly increased.
What are people saying?
Gillian Whyte, Friends of Howwood Park, said: "During the pandemic, Howwood Park has been a phenomenal asset for the village, as it has provided a great space for children to meet up and play, for adults to connect with other adults in a safe environment, and for outdoor exercise.
"The re-opening of the pavilion will take this surge in use to another level as it will attract even more people to the park on a regular basis. Once Coronavirus restrictions allow, it will provide a place from where light refreshments can be bought, a toilet facility, a baby changing facility, storage space for equipment which we can use to hold events, and a base for local groups to meet, including local football teams. It will open a host of new opportunities for activities at Howwood Park".
The park has also benefitted from council investment in the drainage system, new paths and fencing around the perimeter.
If their application is successful, the group plan to apply to Renfrewshire Council's Community Empowerment Fund to support the refurbishment of the pavilion.
Councillor Cathy McEwan, Convener of Renfrewshire Council's Infrastructure, Land and Environment Policy Board, said: "We're always keen to support and empower local people where possible and I look forward to the application for a Community Asset Transfer being considered by the board."
For more information on community empowerment in Renfrewshire, including funding opportunities, visit Community Empowerment.
Published 22 January 2021.