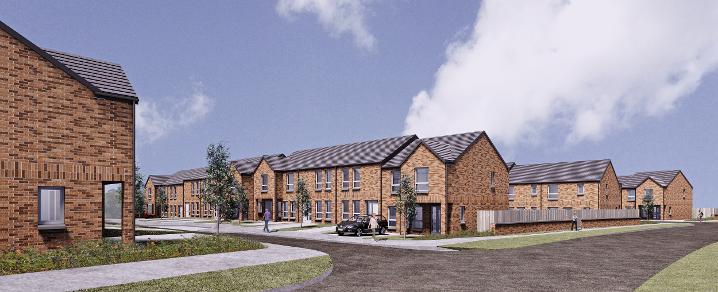 New Council Homes at Auchengreoch Road, Johnstone
Renfrewshire Council recently built 39 modern, energy efficient homes for social rent at Auchengreoch Circle, off Auchengreoch Road, Johnstone.
About our development
These new homes are in a range of sizes and types from one and two bed cottage flats and two, three and four bed back and front door houses. There are one and two bed wheelchair accessible cottage flats included within this development to meet the requirements of people with mobility needs.
The site layout is available to view in the 'related documents' section at the right hand side of this page, along with artist impressions of the site.
Work commenced on site in April 2021 and the full site completed in Autumn 2022.
Applying for a Renfrewshire Council home
If you are interested housing with Renfrewshire Council, you should ensure that you have a current housing application registered with us and you have areas and house type(s) you are interested in as well as property size required on your application.

Please contact our Housing Options Team on 0300 300 0222 if you need to discuss your housing application or to register for housing with Renfrewshire Council.