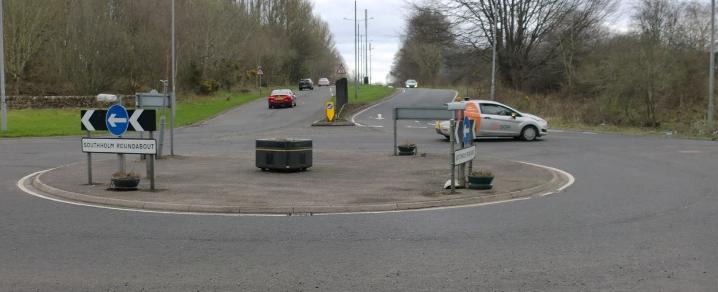 MEDIA RELEASE: Survey launched to discover potential improvements to Southholm roundabout in Erskine
Local people are being asked to submit their thoughts on potential active travel improvements which could be made at Southholm Roundabout in Erskine.
The busy roundabout is used daily by hundreds of residents and commuters and is one of the main routes in and out of the town.
As part of its commitment to provide appropriate infrastructure to allow people to walk, wheel or cycle safely in Renfrewshire, Renfrewshire Council is investigating ways to make the roundabout safer and easier to use to encourage people to think of alternative ways to travel.
The local community can shape how this happens by completing a survey on the council website, open now until Sunday 3 January.
Councillor Cathy McEwan, Convener of Renfrewshire Council's Infrastructure, Land and Environment Policy Board, said: "We know just how important active travel can be to people's physical and mental health and we want to make it as easy and safe as possible for people to use alternative methods of transport.
"It's clear that local people in Erskine, and those who commute through, will be key in providing us with the right ideas as to how we can make improvements here.
"If you've got any ideas or suggestions, please fill out the survey and ensure that you have your say in creating new active travel routes for people in Renfrewshire."
The Council has been awarded funding for this project from Sustrans Scotland's 'Places for Everyone' programme which aims to create safer, more attractive and healthier places which encourage walking and cycling.
Dave Keane, Interim Head of Infrastructure Delivery for Sustrans Scotland, said: "We want to find out if new walking and cycling routes at Southholm will encourage more people to make their journeys on foot, by bike or by wheel.
"The results of this survey will help inform future work to make it easier to make everyday journeys between the local communities."
For more information, and to complete the survey, visit the council website at Southholm Roundabout.
Published 8 December 2020.