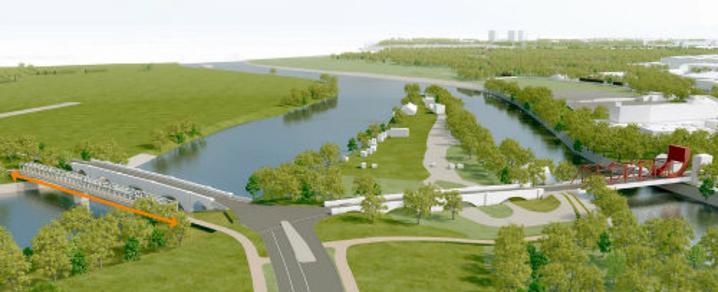 Glasgow Airport Investment Area - traffic management works
Construction is well underway on the Council's Glasgow Airport Investment Area (GAIA) project, delivering the underpinning infrastructure enabling development of the Advanced Manufacturing Innovation District Scotland (AMIDS).
As part of these works, the contractor Wills Bros Civil Engineering will be implementing a programme of phased traffic management at the junction of Greenock Road, Inchinnan Road and Abbotsinch Road to enable realignment of the junction and prepare for installation of a new pedestrian and cycle bridge over the Black Cart.
The junction realignment works were originally scheduled to take place during the school summer holidays, but have been unavoidably delayed due to Coronavirus and require to be carried out at shorter notice than originally intended. We understand these works may cause some inconvenience for road users and Wills Bros will aim to complete the works and remove the lane closures as quickly as possible.
Further details in advance of the next phase of traffic management, scheduled for October and November will be published in due course. The next phase will require a number of short-term closures of the junction to facilitate installation of the new pedestrian and cycle bridge.
Phase 1 traffic management measures
Monday 17 August to Monday 28 September
Traffic management at junction of A8 Greenock Road / Inchinnan Road / Abbotsinch Road
Short lane closures and temporary traffic lights will be in place throughout this period to enable phased construction of the realigned junction.

Between Tuesday 1 September until Thursday 17 September an additional restriction will temporarily prohibit HGV sized vehicles from turning right from Greenock Road onto Abbotsinch Road. Diversion routes will be signposted for affected vehicles during this period. Potentially affected local businesses will be notified in advance about this restriction through the usual communications channels.

From 17 September onwards, road users will be diverted onto a small section of the new realigned Abbotsinch Road. The temporary traffic lights however will remain in place until the new traffic signals are installed in mid-November.
Please contact the City Deal team by email to citydeal@renfrewshire.gov.uk if you have any queries in relation to these works.
Published on Wednesday 12 August 2020