Musings of the Tannahill Makar: Surviving Lockdown
I'm writing this blogpost on 24 June 2020. This date is significant for me as it was 1 year ago, to the day, that I suffered a stroke and ended up in the QEUH as a guest for some time. Then, I was told, I had to get used to a "new normal" as my life, as I knew it, would change.
Fast forward to today, when, like everyone else, I'm finding I'm having to get used to a "new normal" as once again, my life is changed. Our lives are changed.
Although both "new normals" have differing elements there is also a significant amount of overlapping. So here I am. One thing the lockdown has shown me is that I need people. Not in the traditional sense as I am an introvert by nature. Crowds don't thrill me as they do some. At the lockdown outset I was quite content to plough my own furrow, doing my writing, my reading, re-watching some of my favourite movies, keeping my own counsel etc. but after a few months of solitude I've realised I do feed off people in some ways mysterious to my thinking. Whether it's just periodically wandering in amongst folk, occasionally stopping for some chinwaggery or whatever.
So my two new normals manifest themselves in the strangest ways and I have no doubt that seeps into my writing. I've written quite a bit since this enforced incarceration of sorts. My stroke has left me with the legacy of being more emotional on the surface as well as my balance/swallowing being affected. COVID-19 has made me more introspective and wary of my surroundings, both physical and human.
Below you can find two poems I have written during this time, and although I have written a good few more, perhaps this will give you a taste on my thinking at this time.
This first one I wrote after coming across a few old newspaper articles about an event at Craigie Linn. I have written it in the style that is known as Standard Habbie or Burns stanza as the form is sometimes known. This form is after the Kilbrachan piper Habbie-Simson. I found the subject an interesting premise as well as having local interest.
THE CRAIGIE LINN DANCERS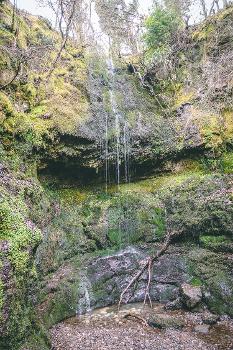 One sunny day two fine young men
they made their way down by the Glen
they danced a jig these two close friends
at Craigie Linn.
Their moves became a heady blend
as their feet began to spin.
One James Brannan, 19 year old,
twirled his Highland reel so bold
slipped on stones wet and cold
broke his skull and died.
His pal James Burnside, truth be told,
fell, though he survived.
Remember that you'll never know
when the reaper calls for you to go
so make hay while you've seeds to sow
and be a dancer.
The time to live is here and now.
Life only answers.
(In May 1892, deep in the Gleniffer Braes, James Brannan, a machinist, and James Burnside, a boot finisher, whom the newspapers of the time, described as "foolhardy dancers", danced to the accompaniment of a piper. While swinging round in the dance, both slipped over the linn (waterfall) and fell to the bottom.)
---
Another poem I have written is from an idea I got from my daughter, Debbie, a frontline worker, who Skyped me during an early morning jog so I could have a virtual walk around my local park with her.
LOCKDOWN IN THE PARK
My daughter Facetimes
a walk in Kelvingrove.
I'm in my jim-jams and Paw Broon slippers,
before my morning shower,
hair, yet to rise and shine.
I draw the blinds to welcome a new day.
Debbie's already in the park
decked out in her walking clobber.
She's at the Stewart Fountain.
Its cherubs, gold, glint in their sun.
She pans her phone to orientate me.
Her smile peers from the small screen.
She waves hello.
'Where do you want to go?' she enquires
I put a slice of bread in the toaster.
I guide her towards the Kelvin Walkway
past the pond, where I used to take pictures of her
and her brother, skateboarding
when they were wee.
I stick the kettle on.
Seems like, so long ago.
I'd stamp my feet, fluttering the pigeons,
catching their wings in mid-flight.
The kids, clutching bags of monkey nuts
wearing fixed smiles for my camera.
I butter and jam the toast.
Milk the tea.
'Where to now?'
Together apart
we hang a left and stop so she can show me
the cherry-tree blossoms
shedding pink fleeting carpets.
I flip up my chair and imagine.
'And what kind of tree is that one?' she asks,
trying to catch me out.
'Silver ... eh, silver-birch, I finally remember,
recalling a past nature-trek.'
We wander along familiar paths.
I can hear the university's bell
chime its record of time passing.
It reminds me of my dad joke
of holding my wristwatch to my ear
in sync with the bong ... bong ... bong
Brian Whittingham