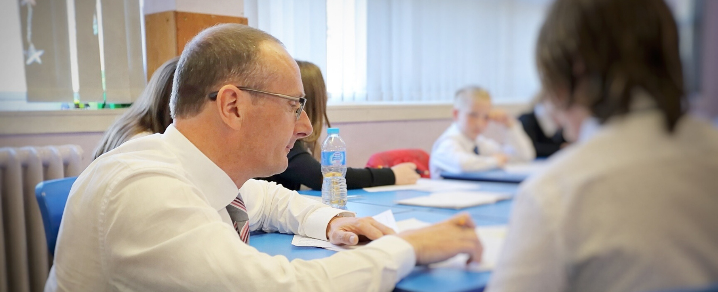 Steven Quinn: Thank you to all Children's Services staff for your support during the coronavirus pandemic
A message to Children's Services staff from the Director.
Dear colleagues,
Thank you for the incredible efforts and commitment that you have demonstrated in support of the children, families and service users in Renfrewshire.
The last three months have been a very challenging time in both working and personal lives. We have all had to adapt to a new way of working to ensure we continue to support children, families, individuals and the communities in Renfrewshire. I also recognise that many of you have had to do this at a time while supporting your own children's learning or looking after family members.
Everyone has had to adapt to this new way of working, whether that be at home or continuing to be in the workplace and visiting children, families and service users in their homes. The collective effort shown across children's services has ensured that we have been able to continue to support our children's learning; offer essential childcare for the children of key workers; ensure the safety and welfare of our most vulnerable children; and continue to be an essential support mechanism for some of our most vulnerable service users.
All of this has taken place within very challenging circumstances which has meant staff across the service have had to show great creativity, innovation and an incredible willingness to support the communities we serve in Renfrewshire.
The willingness shown by staff to continue with home visits to some of our most vulnerable families who were in crisis when other provision was no longer available is testimony to your professionalism and commitment. When our children, families and service users needed us most - you were there to offer that support. Visits to houses; conversations at the door; a short walk and a conversation; video and phone calls; and organising delivery of food supplies all make an incredible difference to the lives of many within our communities.
Staff across our social work and education teams have continued to support children, families and individuals in ever imaginative ways including but not limited to ongoing help to our foster carers and kinship carer households, supporting and allowing our children to see their families; helping families to access additional supports available; and supporting our children to access the hub childcare provision. I recognise that key to all of this is a foundation of building strong relationships and this in itself has been much more challenging under the current circumstances. Nevertheless, this has been overcome and it has been heartening to hear the stories from the community of how colleagues have engaged with children and families.
I believe much of our work has also been strengthened by the close partnership working between education and social work colleagues and I would want us to build on this further.
I would also like to pay tribute to our staff teams who have been a great support to our young people who live in supported accommodation and in our children's houses. This has not been an easy task and through their very selfless attitude, the children and young people have been able to cope with the challenging situation that they have found themselves in.
The work of our range of criminal justice services have been made even more complex in the last few months as they have also had to readjust to a completely different approach. While not in the court, they have continued to support it to the best of their ability. With some creative thinking, services have continued to offer a range of supports and interventions where possible to those already in, or returning to the community, helping people maintain positive mental health, combat addiction, and continue to rebuild their lives. Our female only Women's Community Justice Service team have been keeping in touch with vulnerable women, who described their support as a "lifeline" during the crisis. Even those services unable to undertake their daily tasks have assisted in other ways, such as the unpaid work supervisors' significant involvement in prescription delivery.
As our school and some early years staff head towards the summer holidays, it is important to acknowledge the work of everyone who has immersed themselves in the new digital world of remote learning - it has been incredible to see the different ways that you are supporting children with their learning at home. The childcare hubs in our early years centres and schools have been a great success and I am grateful to everyone that has been able to volunteer to support this. I also recognise the amount of work, including bringing groups of children transitioning in their educational journey into school and nursery for the final days of term, that has already taken place in the planning to allow our children and young people to return to their early years centres and schools in August.
Our childcare hubs will continue over the summer and I am grateful to the early years teams who have had to continue running existing hubs while also developing new hubs for the summer period.
Of course, all of this work would not be possible without the incredible supports that sit behind those who are working directly with our children, families and service users. Whether this has been supporting and developing the recovery plans; liaising with other agencies and partners; administrative supports; or even designing a new information platform (Eclipse) in the middle of this! Your support has been invaluable and I know appreciated by many of your colleagues.
Finally, can I ask that you pass on my thanks and appreciation to your families who will have had to accommodate your new working arrangements. I am sure their knowledge in many curriculum areas will have improved considerably! However, I also recognise that many of your roles will have necessitated sometimes very sensitive and difficult conversations and this will undoubtedly have caused families to offer you the space to have these.
I hope everyone is able to have a break over the summer period. Although this may not look like previous years, it will never be more deserved given the efforts shown over the last few months.
Thank you once again for everything you have contributed and for the effort you have given. This has undoubtedly made a huge difference to children, families and individuals in Renfrewshire. I sincerely hope that we can begin to move back to what we know as normal in the months ahead, but I hope in doing so we take the great learning with us and continue to build some of our new connections and relationships.
Take care and very best.
Steven Quinn
Director of Children's Services
---
Published on Wednesday 24 June 2020.
Pictured: Steven Quinn teaching maths in a classroom.