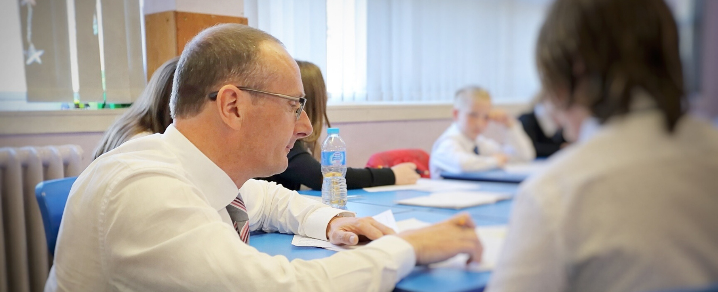 Steven Quinn: First Minister's announcement on schools and early years centres reopening
A message to Headteachers and Heads of Centre from the Director.
Dear colleagues,
I hope you and your staff teams remain well.
You will probably have been listening to the First Minister's address at lunchtime which included a recovery programme for our schools and early years centres to reopen and with this, I am guessing there will be many questions both you and your staff teams have. You may also be feeling anxious.
I would therefore want to offer some reassurance.
There has been extensive planning taking place to be ready for this to happen. This has included input from yourselves, collaboration with colleagues across the country, with national agencies and many of our partners. We have also been learning from the fantastic work that has taken place in the childcare hubs and from what other countries have been doing. In addition, and very importantly we will continue to follow scientific advice and government guidance.
The safety of our children, young people and staff will continue to be an absolute focus.
We are working hard to provide continued advice and guidance to support the recovery. Some of this you already have. I absolutely understand the need to create space and time for you and your staff to concentrate on how you will deliver an education to our children and young people in a safe environment. This means that you will need to stop doing certain things and concentrate on what is an absolute priority. You will have permission and be encouraged to do this.
There will be a need to support each other more than ever and maintain strong and positive relationships across our school and early years communities. I recognise that this can sometimes be difficult in challenging times and I would ask that you make this a priority across your own communities.
We will be able to share further guidance with you next week including a summary and potential timescales for recovery, including staff and small groups of children returning. However, this will continue to be dependent on scientific advice. In addition, this will be done in continued consultation with yourself, your staff, school and early years community and partners and on the understanding that plans may have to change as evidence changes.
In the meantime, I would be happy for you to share this message with all of your staff group. This will need to be a team effort with a contribution required from everyone.
Thank you to you and all of your staff team for the incredible job that you are doing. I have every confidence that once again our school and early years communities will rise to the challenges ahead, bringing our children back in a safe and managed way.
Steven Quinn
Director of Children's Services
---
Published on Thursday 21 May 2020.
Pictured: Steven Quinn teaching maths in a classroom.