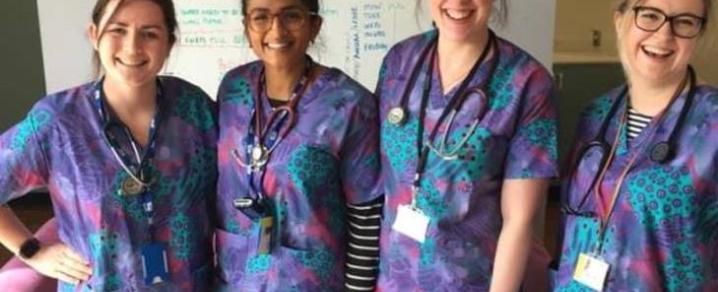 I've been making homemade scrubs to support doctors and nurses in our NHS
Sharon is a senior social worker who has been making scrubs out of donated or unused material.
At the very start of the lockdown, I saw a request on Facebook for people who can sew to make scrubs for nurses and doctors given the shortage of PPE. I answered the request as I have been dressmaking and doing alterations in my spare time for many years. I have been making the scrubs during my annual leave and at weekends since then.
A lot of the fabric has been donated or we've also used old duvet covers, particularly some comedy duvet covers. The fabric has to be washed first to decontaminate it before we can work on it. Then we work to an agreed pattern that was originally provided to us by a similar group in the Shetlands. The group is called the Nifty Home Stitchers (NHS).
We also make cloth bags for hospital and care staff to put their scrubs in at the end of shift and which can go straight in the washing machine.
There have been numerous compliments made about a particular fabric that was donated by the Unpaid Work Team and will certainly brighten up the wards, as you can see from the doctors in the picture. The scrubs and bags have been donated to various hospitals, care homes and GP surgeries across the west coast, central region and Edinburgh.
Sharon Henderson
Senior Social Worker - Criminal Justice
---
Published on Friday 1 May 2020.
Pictured: Doctors in Sharon's handmade scrubs, featuring material provided by the Unpaid Work team.