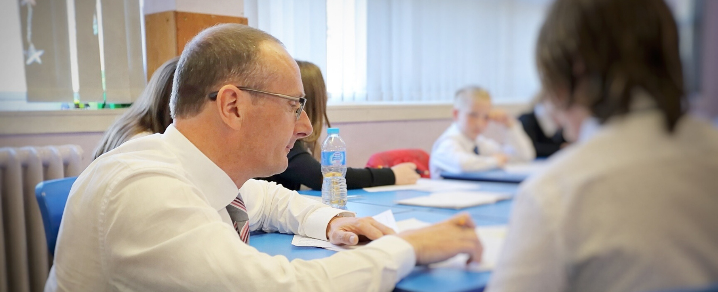 Steven Quinn: Thank you for all your support during these challenging times
A message to all Children's Services staff from the Director.
Dear colleagues
The last few weeks have been a challenging time for all of us. In a short space of time, we have had to significantly change the way we work, live and socialise. However, the care and wellbeing of our children, young people and families is always our priority and it will continue to be our focus in the coming weeks and months ahead.
The council moved to shut down the majority of its buildings and schools on 21 March 2020, resulting in most staff working from home. As a service, we immediately responded to protect the safety, health and wellbeing of our children and young people; ensure that teaching, learning and support would continue in a range of ways for different groups of children and; ensure that those involved with justice services were supervised and supported. Childcare and learning hubs were established across Renfrewshire to support those who have parents or carers employed as key workers and vulnerable children.
I want to take this chance to thank all of our Children Service's staff for their incredible hard work and dedication over the past few weeks for the benefit of our young people and families - their work really has been monumental.
Teachers, early years practitioners and support staff are demonstrating new ways to communicate with our children and families to ensure they are well and engaging in their learning in a variety of ways at home and in our hubs. Social work continues to support children, families and people involved with criminal justice. They are doing so by continuing to visit the most vulnerable and using telephone and video facilities where visits aren't possible. The residential children's houses continue to provide a safe home for children as are our throughcare service for care leavers. I also want to highlight the commitment of our foster carers and kinship carers who are supporting children and families at this time. In addition, staff from justice services are undertaking duties to support the council's humanitarian response. These are just some examples of the tremendous work ongoing in our service.
We do not know how long the current situation we find ourselves in will last but we do know that things will not instantly return to how they were. We now need to find our new normal and we are starting to consider our transition and recovery plan. This will be informed by national guidance and shaped through consultation with colleagues. We cannot underestimate the challenge we will face throughout the coming months. However, through trust, cooperation and collaboration, we will continue to ensure that all children, young people and families in Renfrewshire have the best chance to succeed.
Steven Quinn
Director of Children's Services
---
Published on Friday 1 May 2020.
Pictured: Steven Quinn teaching maths in a classroom.