Video message from Chief Executive, Alan Russell - Friday 19 August 2022
Welcome to the second of my new video messages. Short updates about the latest developments across the council as well as my priorities and ambitions for Renfrewshire.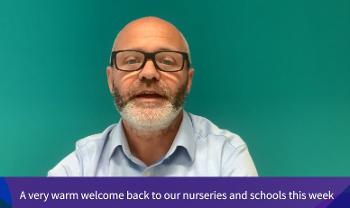 Click to watch my new video message A very warm welcome back to our nurseries and schools this week and thank you to everyone who has made the return for our children and young people a safe and positive one. I hope you all had an enjoyable and relaxing break.
It's been lovely to see our P1s embarking on their learning journey, young people entering high school for the first time and all pupils reconnecting with friends and school staff.
Last Tuesday, pupils across Renfrewshire received their exam results, and I'd like to congratulate all our pupils for their hard work and achievements, as well as teaching and school staff for their efforts.
There are many ways to achieve career ambitions, and over the last five years, we have been working hard to support young people to follow the right career path for them, whether that's an apprenticeship, going to college or university or heading straight into the workplace. There is no wrong path!
I hope some of you have managed a break over the summer. It's been a challenging couple of years, and I'd like to thank everyone for their hard work and continued commitment.
Sadly, we know we're facing a difficult winter. Households and businesses across the country are feeling the impact of increasing energy bills and living costs, and in response a new council committee has been set up to focus support for residents tackling the cost-of-living crisis here in Renfrewshire.
The new Fairer Renfrewshire sub-committee will focus on tackling inequalities and the rising cost of living as well as the issues communities face in the wake of the pandemic. The group met for the first time this week and we will keep you up to date with their progress as they consider ways to support those most in need.
If you are concerned about or struggling with money, talking about it can be difficult but the earlier you seek the help, the more help can be given. We want to make it simple for people to get the help they need when they need it. Please speak to your manager or visit the financial wellbeing section of the council website which is a good place to start if you think you need help or financial advice.
Thank you
Alan