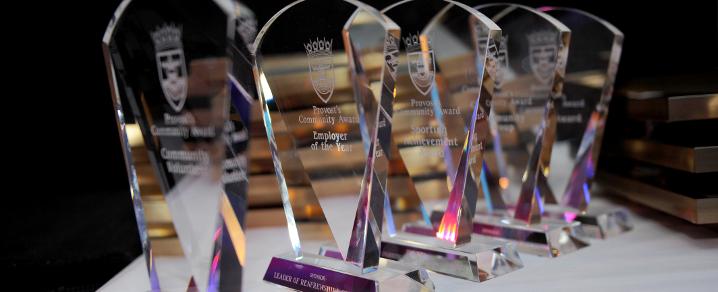 Provost Community Awards 2019
The nomination period for the Provost's Community Awards 2019 has closed.
There are six categories for which nominations where invited, which were:
Community Group - sponsored by Piazza Shopping Centre
Community Volunteer - sponsored by Glasgow Airport Ltd
Sporting Achievement - sponsored by ACRE Industrial
Employee of the Year - sponsored by UNISON Renfrewshire
Carers Award - sponsored by former Provost Nancy Allison
Arts and Culture - sponsored by Renfrewshire Council
The winners will be announced at a special awards ceremony on 15 March 2019.
For more information, contact:
provostawards@renfrewshire.gov.uk
or
Provost Lorraine Cameron
Provost's Community Awards
Renfrewshire House
Cotton Street
Paisley
PA1 1WD
T's & C's
Our judging panel look at all the nominations and come to a decision once the deadline has passed.
The panel is made up the Provost, the award sponsors and small number of councillors from across the political parties.
Someone can be nominated again even if they've been nominated in a previous year.
You can nominate a relative for an award
The winner and their nominator will be invited to attend the event, each with a guest if required.
Winners will be required to take part in publicity of the awards.