​​​​​​​'Working together is vital to securing future local public services' - Council Leader
"Listening and closer working with partners across the public sector will be essential to securing the future of local public services which are relied upon by our local communities," says Renfrewshire Council Leader Iain Nicolson.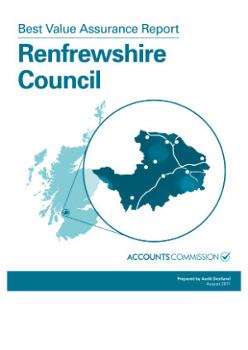 The Council Leader was responding to a report by the Accounts Commission which assessed how well the Council was performing. The audit took place between January and June this year and included interviewing councillors, senior officers, Trade Unions and partner organisations; observing a range of council and committee meetings; reviewing documents and performance data; and conducting focus groups with councillors and officers.
The review by auditors found:
Renfrewshire Council has a clear and ambitious vision for Renfrewshire, shared with its partners, to revitalise the area's economy and address poverty and inequality.
The council and its partners are good at working with, and involving, communities.
Since the 2006 Best Value report, Renfrewshire Council has maintained a steady pace of change, supported by effective leadership that has allowed it to improve the way it plans, manages and delivers its business.
Since 2006, the Council has steadily improved how its services perform. It works well with partners and has developed a number of new approaches to how it delivers services.
The Council has effective financial management and a sound medium-term financial strategy.
The council has a good record of delivering services differently. It works well with partners and has developed a number of new approaches to how it delivers services.
Council Leader Iain Nicolson said: "This is a very positive report which recognises the Council's continuous improvement in how well we deliver services to the public. It recognises the clear vision and ambition for Renfrewshire to revitalise the area's economy and address issues that cause inequality and the work we do with partners and communities to help shape those services.
"As the leader of the Council, it is important we continue work with all political parties to get the best deal for the whole of Renfrewshire. That is why we set up a new Cross Party Sounding Board which includes representatives from all parties and independents and enables open discussion of matters of common interest and cross-party issues. We are committed to a collaborative and consultative culture across the political spectrum.
"This is a fantastic time for Renfrewshire, with Paisley's shortlisting for UK City of Culture 2021, the £1.13billion Glasgow City Region City Deal and the ongoing regeneration of Renfrewshire all contributing to a fantastic opportunity to develop the area as an attractive place to live, work, visit and invest in.
"The Cross Party Sounding Board allows the best decisions to be taken for Renfrewshire to continue its ambitions while being fully representative of the needs of its community. At the same time, we recognise the importance of transparency and scrutiny of our work and that's why we established a new Audit, Risk and Scrutiny Board.
"The report also highlights the challenges ahead, with increasing pressure on funding and impacts from a changing population and welfare reform. Working together with councillors, with partners, businesses and communities, will be vital to shaping and securing the important public services so many of us rely on for the future."
Recommendations from the report are already being implemented with a detailed workforce plan in place to ensure staff have the right knowledge and skills to deliver on the Council's future priorities.
Renfrewshire Council Chief Executive Sandra Black said: "The report shows the Council continues to improve how we work and I would like to thank all our staff and partners for the work they do every day of the year.
"It recognises the sound financial planning we have in place, but acknowledges, as for all councils, that we will need to find new ways of delivering public services in the future to manage the financial pressures and the change in demand. We will continue to work with our partners and ensure we take the views of communities into account to help shape these services for the future."
Published 31 August 2017