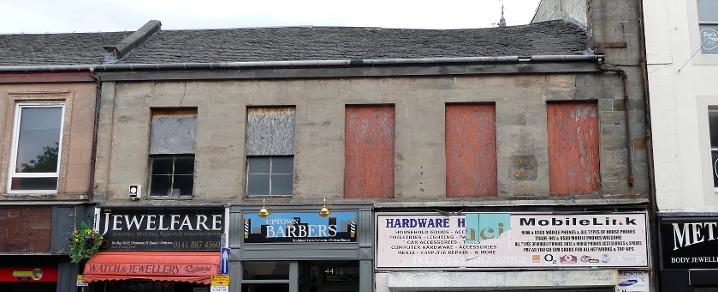 £1m investment planned for Paisley town centre building repair projects
Two prominent historic Paisley town centre buildings are set to be given a new lease of life - after council building repair grants towards a combined £1m investment were approved.
Members of the council's Leadership Board approved £615,000 of funding towards the projects to revive buildings at 44 High Street and 3 County Place.
The money is available through the council-run Townscape Heritage/Conservation Area Regeneration Scheme (TH/CARS2) which includes financial support to help property owners with the cost of repairing and restoring historic buildings which have fallen into disrepair.
The current TH/CARS2 scheme aims to improve the built environment in Paisley town centre and is funded by National Lottery Heritage Fund, Historic Environment Scotland and the council.
What's being proposed?
The two projects are:
3 County Place: A grant of up to £360,000 towards a £630,000 project of external repairs to transform a C-listed building in a highly-visible site opposite Paisley Gilmour Street station. Once completed, the owner plans to convert the upper floors above the existing units into four new flats.
44 High Street: A grant of up to £255,000 towards a £375,000 building and shopfront improvement programme in a building currently home to several businesses.
The work will also include external building repairs and new traditional shopfronts for the ground-floor units. It would cover the whole building apart from the middle shop unit - Uptown Barbers - which has already benefitted from work funded by the TH2/CARS scheme to improve its shopfront.
Both buildings are currently in poor condition and are on the Buildings at Risk register. The grants will be subject to the approval of the funders NLHF and HES.
What's been said about it?
Renfrewshire Council leader Iain Nicolson said: "Paisley town centre is fortunate to have a wonderful collection of historic buildings but sadly some of them have been allowed to fall into disrepair.
"The great work being done by the TH/CARS2 scheme is helping to change that by helping property owners bring their buildings back into use for generations to come, and we thank our funders NLHF and HES for making that possible.
"These projects will transform the look of two prominent sites in the town, which we hope will in turn encourage others to invest.
"The building in County Place is seen by millions of rail passengers each year so the planned work will help change first impressions of Paisley, and will complement the investment the council will make to improve the look of County Square over the next couple of years.
"And the work on the top of the High Street is one of several investments being made in that area ahead of Paisley Museum reopening in 2022, which will bring 125,000 visitors a year."
What else is happening in the town?
The current TH/CARS2 scheme operates in the area around Paisley High Street, New Street and Shuttle Street and follows a successful scheme which transformed the look of the Causeyside Street area of the town in recent years.
The five-year scheme will run until 2021 and will also see a number of other building restoration, shopfront improvement, and changes to streetscapes being delivered over the next year.
It is part of a much wider £100m investment in Paisley town centre's cultural venues and outdoor spaces, which includes the work to transform Paisley Museum into a world-class destination and to keep Paisley Town Hall at the heart of life in the town as a landmark entertainment venue.
Article added: Friday 14 Febriary 2020 (updated 28 February 2020)