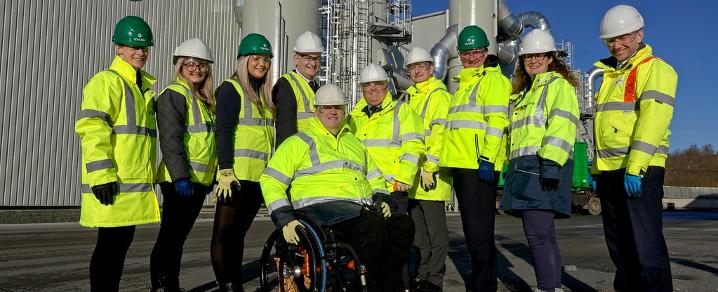 £700milllion project set to transform Renfrewshire's waste into green energy
A unique new contract will see at least 90% of Renfrewshire's waste transformed into energy as the area meets the Scottish Government's landfill ban.
What is the Clyde Valley Residual Waste Project?
The £700 million, 25-year partnership between East Dunbartonshire, East Renfrewshire, North Ayrshire, North Lanarkshire, ourselves and Viridor is underway and will serve almost one-sixth of Scotland's population.
It will see up to 190,000 tonnes of general waste diverted from landfill and converted to low-carbon energy and is expected provide a net saving of almost 50,000 tonnes of CO2e every year.
How does it work and what will it deliver?
This is the first partnership of its kind in Scotland and will see household waste taken from Renfrewshire and the other local authorities to a Materials Recovery Facility, where it will be further separated to remove recyclable materials before it is treated to produce a refuse derived fuel.
Then, at the brand-new Energy Recover Facility at Dunbar, it is burned at high temperatures, under carefully controlled conditions to produce 258GWh of low-carbon electricity for the national grid - enough to power more than 70,000 homes.
As well as at least 90% of waste being transformed into energy, rather than going to landfill, it will deliver a guaranteed increase in recycling for Renfrewshire, further enhancing our growing environmental prospects having seen our recycling rate improve every quarter since December 2018.
What have people had to say about it?
Councillor Cathy McEwan, Convener of Renfrewshire Council's Infrastructure, Land and Environment Policy Board, said: "A key priority of the council is tackling climate change and this project will make a significant difference to the level of C02 we produce by improving the way we deal with our waste.
"Anything that cannot be recycled will now no longer go to landfill and will be transformed into energy instead, making a real difference to our environment and taking our commitment to recycling to a new level.
"Our teams have been working hard over the last decade to make this a reality and we're looking forward to working with our partnership authorities to ensure that the project achieves the environmental aims it sets out."
Steven Don, Viridor's Head of Local Authority Contracts Scotland, said: "The Bargeddie Hub is now receiving waste as part of this contract just in time for the very busy post-festive season period.
"The Clyde Valley Partnership is an excellent example of how local authorities can work together to deliver effective waste management and contribute to a circular economy in Scotland.
"The sophisticated technology at Bargeddie improves recycling and non-recyclable waste treatment, maximising the opportunities to recycle while putting non-recyclable waste to work to generate electricity."
The contract will also see Viridor deliver a number of community benefits, including annual apprenticeships, educational school visits and training workshops for businesses.
For more information on Renfrewshire's approach to waste and recycling, visit My Bins.
Published 17 January 2020.