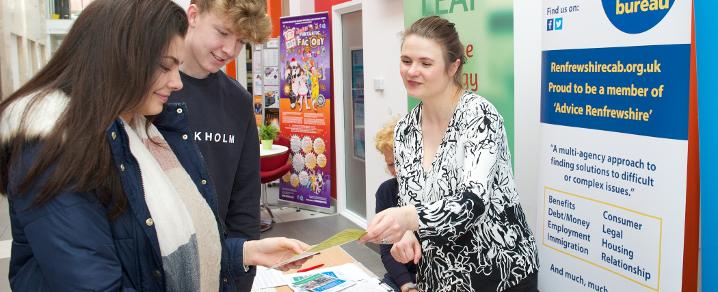 Debt advice is at hand on Blue Monday
Are you worried about debt and big bills after Christmas? You're not alone.
Today is Blue Monday, often described as the "most depressing day of the year" because it's the day bills from Christmas start arriving ahead of many people's pay day.
A third of all families will have spent more than they can afford at Christmas, leaving many struggling financially.
However, help is at hand. There are many organisations in Renfrewshire who can provide you with help and debt advice.
Advice Renfrewshire
Find free, confidential, and impartial advice.
Money and debt
Food
Welfare benefits
Urgent advice
Legal
Consumer
Housing
Health
Energy advice
Website: advicerenfrewshire.org
Freephone: 0808 164 2922
Advice Works
Free, confidential and independent service and will give you advice in a straightforward manner.
Money and debt
Budgeting
Negotiating with creditors
Bankruptcy
Mortgage and rent arrears
Benefits check
Drop-in service available in Johnstone, Paisley and Renfrew..
Advice Works
Johnstone Town Hall, 25 Church Street, Johnstone
Monday - Thursday: 8.45am - 4.45pm, Friday 8.45am - 3.55pm
Renfrewshire House
Customer Service Centre, Cotton Street, Paisley
Monday - Thursday: 8.45am - 4.45pm, Friday 8.45am - 3.55pm
Renfrew Health Centre
10 Ferry Road, Renfrew
Tuesday, Wednesday, Friday: 8.45am - 11am
Phone: 0300 300 1238
Renfrewshire Citizens Advice Bureau
A local, independent charity which provides free, impartial and confidential advice and information to give you the tools you need to sort out any issues or problems.
Benefits
Work
Debt and money
Consumer
Family
Housing
Law and courts
Health
Immigration
Website: www.renfrewshirecab.org.uk
Phone: 0141 889 2121
Renfrewshire Affordable Credit Alliance (RACA)
RACA is made up of a variety of organisations including credit unions, banks, Renfrewshire Council and more in order to help you access fair and affordable forms of credit.
Credit unions
Banks and bank accounts
Other credit sources
Advice
Credit ratings
Website: www.raca.org.uk
My Credit Union Renfrewshire
Your one stop shop for:
Gleniffer Credit Union
Johnstone Credit Union
Renfrewshire-Wide Credit Union
Scotwest Credit Union
White Cart Credit Union
Website: mycreditunionrenfrewshire.co.uk
---
Published: Monday 20 January 2020