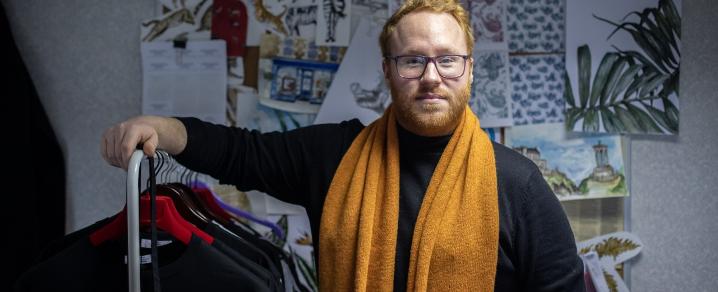 Josef's creative collections are made in Renfrewshire
Josef McFadden may hail from Northern Ireland, but his creative business is made in Renfrewshire.
The 27-year-old moved to Paisley in 2017, via a pitstop in the Scottish Borders, to complete the Council's InCube Creative programme - helping people turn their talent into a sustainable business.
Josef, a clothing and accessory print designer, converts his hand-drawn illustrations into menswear products, including ties, bow ties, hats and scarves.
"My business is much bigger since I moved to Paisley," says Josef. "The InCube programme was fantastic and through that I got a lot of support from Business Gateway and mentoring help. I learned lots, how to run a business for yourself and to think much more commercially. That's been the biggest change in my business thanks to the programme."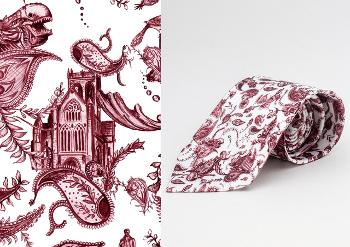 Originally aiming to be a portrait painter before discovering textiles, Josef has now moved into studio space at ReMode on Paisley High Street, the latest creative hub to open in Renfrewshire.
Fashion-focused ReMode sell second-hand and upcycled clothing and run sewing workshops together with an engagement programme to highlight the environmental impacts of the fashion and textile industry.
It's a cause Josef is excited to be a part of. He said: "All of my products are sourced in the UK, handmade to the highest standards and all without oil or gas in the print production process. I work with an ethical, sustainable designer in North Berwick who takes my offcuts and I'm keen to do more to support sustainability and contribute to the work ReMode are doing.
"It's a lonely life when you're self-employed, so it's nice to be in a shared studio setting where you can come in, see other faces and throw ideas off one another. And it's really beneficial to have 24-hour access, as well as space to work and to store my collections."
Published on 20 December 2019