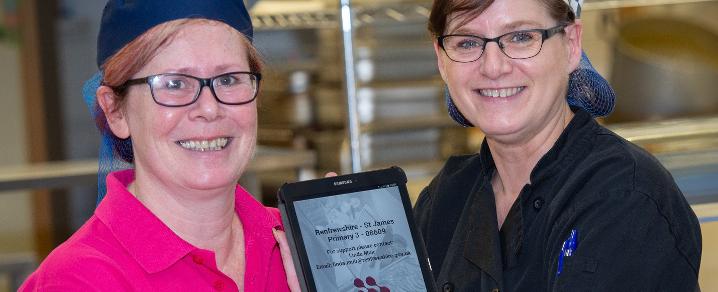 Half of Renfrewshire schools to introduce cashless system by the end of November
A total of 31 of Renfrewshire's 62 schools will be up and running with ParentPay by the end of November.
The system takes money out of the classroom by allowing parents to pay for school lunches, fun days, trips, events, activities and equipment online.
ParentPay originally launched at six schools in Renfrewshire in January 2019, with a further 13 schools moving onto the system in the spring.
The next stage of the roll-out will begin in September, with these schools all introducing the system by the end of November.
Arkleston Primary
Barsail Primary
Bishopton Primary
Gallowhill Primary & Nursery
Inchinnan Primary
Kirklandneuk Primary
Langbank Primary
Newmains Primary
Park Mains High
Ralston Primary & Nursery
Rashlielea Primary
Renfrew High
It is expected that all Renfrewshire schools will be live with ParentPay by the end of 2020.
ParentPay, which is already used in more than 9,000 UK schools, allows parents and carers to make payments into their child's account 24/7. They will also be able to see what their child has ordered for lunch and keep a record of all the payments they have made.
Parents and carers who don't use online banking can put money into their child's account at their nearest PayPoint, usually located in newsagents and other local shops.
Activation letters with step-by-step instructions on how to register for ParentPay will be sent out to parents and carers before their child's school moves into the new system.
Parents and carers will need to set up a MyGovScot MyAccount to use the new payment system.
To register for MyAccount, see 'related articles'.