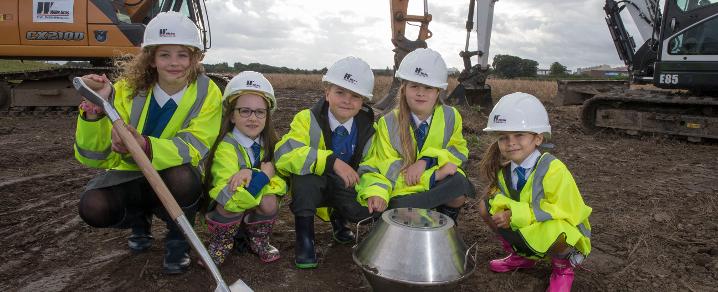 MEDIA RELEASE: 'Happy Glasses' and 'auto-bikes' could be made in Renfrewshire as work starts on major manufacturing district
Glasses that see emotions and bicycles which locate their owner are just two of the incredible inventions which could be made in Renfrewshire.
These creative concoctions from Inchinnan Primary School pupils have been sealed in a time capsule at a 52-hectare field next to Glasgow Airport which is being transformed into a campus for cutting-edge manufacturing research.
Spades hit the ground this week on developing the Advanced Manufacturing Innovation District Scotland (AMIDS), which could create 6000 jobs and boost Scotland's manufacturing sector by £535million a year. The district's development is led by Renfrewshire Council, in partnership with Scottish Government and Scottish Enterprise.
The pupils were invited to the University of Strathclyde's Advanced Forming Research Centre in Inchinnan to see the time capsule being meticulously manufactured, before planting it on site.
"When you put them on and press the sound button, you can know the person's feelings and they can be used by parents, doctors and teachers to see if they're okay and make them happy," explains eight-year old Maya Jones, the brains behind Happy Glasses.
School-mate Scott Miller hopes his app-enabled auto-bike, able to self-navigate to its owner and stop at red lights, is the first of many more inventions.
The Primary 7 pupil said: "People that come up with inventions have an idea in their head and think 'what could I do with this?' and then they build up their thoughts. I'd like to build inventions that move, and I like bikes so I thought why not do something with them to help people if their car breaks down."
Maya and Scott planted the time capsule, joined by fellow pupils Rhia McKenzie, inventor of an 'Already Ready' dressing service, Cleo Murray, creator of a fashion machine and Maria Shambrook, pioneer of a robot litter picker.
The capsule contains items from renowned Renfrewshire-based manufacturers, including a Rolls Royce turbine blade for a Boeing 757 manufactured in Inchinnan and 100% recycled Coats sewing thread, the company's roots traced to the Paisley weaving and textile industry.
There is low carbon leather from Bridge of Weir-based Scottish Leather Group used in luxury car seats and a miniature Johnnie Walker Black Label, bottled at Diageo's Shieldhall site.
There's also a Paisley Pin brooch from local designer Laura Provan, a compilation of songs from local musicians and images of iconic manufacturing sites.
The capsule is now buried underneath the site which will soon house the National Manufacturing Institute Scotland and the Medicines Manufacturing Innovation Centre, with a further 1.6million square feet available for companies to locate to and tap into the latest manufacturing technological advancements.
Renfrewshire Council Leader Iain Nicolson said: "The development of the Advanced Manufacturing Innovation District Scotland (AMIDS) in Renfrewshire brings fantastic employment opportunities and provides the ideal base for businesses of all shapes and sizes to thrive.
"We already have a strong manufacturing sector making a massive contribution to the national economy and the new district will ensure we are at the heart of Scotland's bright manufacturing future.
"It's exciting to think that these creative pupils may one day be working within the district turning their ideas into reality and I'm delighted that work is now underway to create the infrastructure needed to make it happen."
The enabling infrastructure is scheduled to be completed in early 2021 and includes new roads, bridges, cycling routes and pedestrian walkways.
It is being delivered by the £39.1million Glasgow Airport Investment Area project, jointly funded by the UK and Scottish Governments through the £1.13 billion Glasgow City Region City Deal.
Published on Sunday 1 September 2019