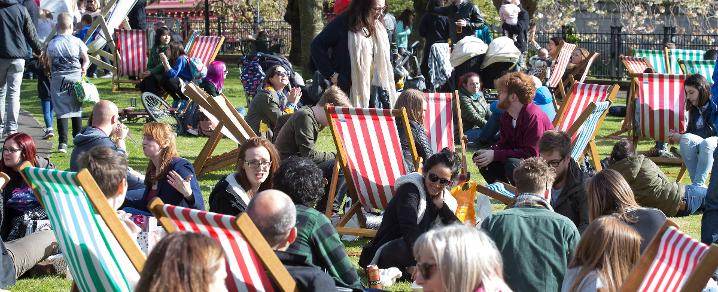 Find out how to apply for new community festive events fund and toolkit
Do you belong to a community group looking to stage events? We've just launched a new festive events fund and toolkit offering expert advice. Read on...
Renfrewshire Council is making a festive events fund of £20,000 available to help local groups stage events in towns and villages across the area.
There will also be an events toolkit offering detailed advice on how to plan, organise and promote their own - as well as a series of public surgeries run by the council events team
Paisley's festive events programme is being boosted with a series of special events to commemorate the 90th anniversary of the Glen Cinema disaster, including a torchlight procession featuring local schoolchildren and community groups.
Plus some of Paisley's upcoming festive events are being reprogrammed to spread the benefits to different parts of the town - Sma' Shot Day will take place in a new location around New St/Shuttle St next month, and the event sites for Halloween and Christmas lights will include the area at top of the High St.
The events toolkit will be produced by the council's events and marketing team and contains their expert advice on everything from applying for licenses and public safety to generating media and online profile.
Public surgeries to help local groups will take place in Paisley, Renfrew, Linwood and Bridge of Weir during July and August and are open for booking now - along with details of how to apply for the new fund - via the links in the Related Links section on this page.
Here's some stats on our events and visitor programme:
- the 2018 events programme was worth £4.7m to the local economy and attracted 160,000 attendees (34% of whom were visitors to Renfrewshire)
- this year's Paisley Food and Drink Festival saw attendees rise 32% to almost 20,000, with an economic impact of 1.1m - and was listed as one of the best food festivals in the UK
- there were nearly 340 million chances to see or hear something positive in the media or online about Paisley and Renfrewshire in the past year
- the paisley.is website to promote the area as a place to live, visit and invest saw nearly 250,000 page views in its first year, while its social media content had a reach of 3.5m
- a new partnership has been formed with Visit Scotland to drive national awareness of Renfrewshire attractions
Article added: Thurs 20 June 2019