Shortroods
The Your Home, Your Street, Our Community programme was in Shortroods in Paisley for a three-month period after being identified by key community safety partners as in need of additional support.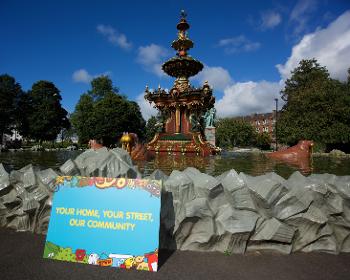 A survey of residents highlighted the main concerns with their community included anti-social behaviour, violent crime, lack of youth interaction and littering.
Based on this, an action plan was created by all the partners to tackle these issues and make Shortroods a better place to live.
Actions carried out
School talks
Increased Community Police Officers
Social media campaign
Organised litter-picks
Launch of 'No Knives, Better Lives' campaign
Street Stuff youth activity bus
High value drugs recoveries
Joint Police/Community Wardens/Youth Team patrols after school and evenings
Road safety events
Increased interaction with older people
Dog fouling patrols
Increased interaction with the STAR project
Increase in warden patrols
Reduction of deliberate fire-raising
Free swim passes for youths handed out
Introduction of lunchtime sports clubs at schools
Results of the intervention
74.5% of respondents, an increase of 17.5%, stating they felt Shortroods was a fairly good, good or very good place to live.
65% of residents now feeling safe in their neighbourhoods, an increase of 31.5%.
More than 86% of residents also now feel safe in their homes thanks to the work carried out as part of the programme.
56% felt that anti-social behaviour had decreased since actions were taken.
42% said drug addicts/misuse/dealing had decreased since actions were taken.
59% stated that violent crimes had decreased since actions were taken.
34% said that thefts and/or house break-ins had decreased since actions were taken.
56% felt that litter or rubbish lying around had decreased since actions were taken.
41% stated they felt that interactions with youths had increased since actions were taken.
What next?
The Shortroods community will continue to be supported by all the partners involved with community police officers and wardens continuing to operate within the area, and residents can also take advantage of the close working relationship developed with the council services involved, including the housing and youth teams.