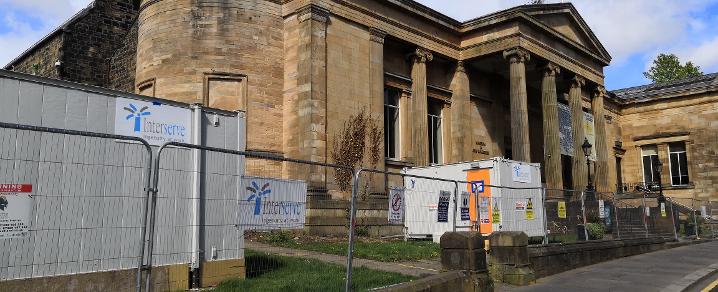 Work moving ahead on Paisley Museum transformation
Work to turn Paisley Museum into an international-class destination continues - here's the lowdown on what's happening on site at the moment
Visitors to the town centre in recent weeks will have seen plenty going on around Paisley Museum - as the work to transform the building continues.
Between now and 2022, the museum will be turned into a world-class destination bringing new life and footfall to the town and showing off Paisley's unique stories and collections.
Here's the lowdown on what's happening on site at the moment...
Our contractors have been on site in the past few weeks for the first phase of the construction - known as enabling works, to prepare the site for main construction starting next year.
Among other things, they have been carefully removing fixtures and fittings (apart from those which are Listed) and removing old electrical, heating and mechanical equipment and wiring.
Fencing and site cabins have also gone up, and solid timber hoardings will be added. They have also removed some of the vegetation around the building and cut down three trees deemed unsafe.
The next step will see work to demolish the 1970s and 1950s extensions to the rear of the museum, due to happen during May.
All the work has been planned to minimise disruption and our contractors Interserve will be providing updates to neighbours while it happens.
Here what you can look forward to when the museum reopens:
- all museum buildings (including the Coats Observatory) restored by international architects AL_A, with a newbuild extension and outdoor spaces added
- visitor numbers to almost quadruple to 125,000 a year - bringing new footfall to town centre traders.
- twice as many objects from our internationally-significant collections on show as part of new high-quality displays - and the people of Paisley will help shape how those stories are told.
The museum project is the centrepiece of wider investment by Renfrewshire Council aimed at increasing footfall, creating new homes for events and life-changing cultural experiences, and preserving our heritage.
That includes the transformation of Paisley Town Hall, a new Learning and Cultural Hub at the heart of the High Street, and redesigns of our key outdoor spaces and road junctions.
Paisley Museum Reimagined is funded by Renfrewshire Council, the National Lottery Heritage Fund, and the Scottish Government's Regeneration Capital Grant Fund.
For more info on museum and library services see Renfrewshire Leisure and for more on what's happening in the area see Paisley.is
Article added: Tues 30 April 2019