Renfrewshire elects new Scottish Youth Parliament representatives
Thousands of young people from across Renfrewshire have voted to elect their new Members of the Scottish Youth Parliament (MSYPs) in the 2019 Scottish Youth Parliament elections.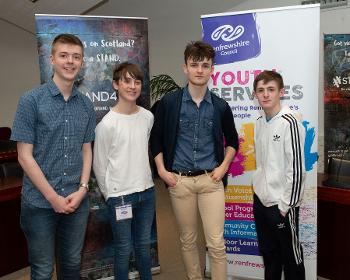 Renfrewshire returned the highest average votes cast per constituency in Scotland as more than 6000 young people in Renfrewshire exercised their right to vote, the second highest amount nationally and accounting for almost a fifth of all valid votes cast.
Following almost three months of campaigning from candidates across Scotland, young people aged 12-25 were asked to cast their vote to elect their local MSYP - with Renfrewshire electing five candidates in total.
The candidates elected for Renfrewshire are:
Lewis Givan (Paisley)
Gary Murdoch (Paisley)
Rebecca McAleney (Renfrewshire North and West)
Josh Kennedy (Renfrewshire North and West)
Gavin Stewart (Renfrewshire South)
The MSYP-elects will officially take up office at the Scottish Youth Parliament's National Sitting in June 2019.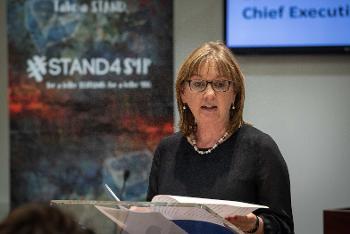 Sandra Black, Returning Officer for Renfrewshire, said: "It's fantastic to see the enthusiasm and desire that these young people have as they strive make a difference for their peers in Renfrewshire and I congratulate our new MSYPs on their election.
"The Scottish Youth Parliament gives them an opportunity to have their voice heard on a national level and the next two years will be invaluable life experience for them as they look to pursue a possible future career path.
"My thanks go to the outgoing MSYPs for their hard work and dedication and I'm sure our newly elected members will live up to the same high standards as they take on the role."
The Scottish Youth Parliament is the democratically elected voice of Scotland's young people. It provides a national platform for young people to discuss issues important to them and affect the change they wish to see.
Speaking after the 2019 SYP election results, Suki Wan MSYP, Chair of the Scottish Youth Parliament, said: "I'm delighted to announce that thousands of young people made their voices heard by casting their vote in the Scottish Youth Parliament's 2019 national elections.
"Over the past few months, we've witnessed fantastic campaigning taking place all over the country, with passionate debates and hustings inspiring Scotland's young people to get involved in the democratic process by voting in the Scottish Youth Parliament elections. I'd like to congratulate all of the candidates and wish the best of luck to the newly elected MSYPs.
"Through our work at the Scottish Youth Parliament, we know that young people want to be involved in political decision making and want their voices to be heard so that they are at the forefront of shaping society."
A full list of the newly elected MSYPs can be found at the Scottish Youth Parliament, with information on Renfrewshire's MSYPs being available via Renfrewshire MSYPs.
Published 1 April 2019.