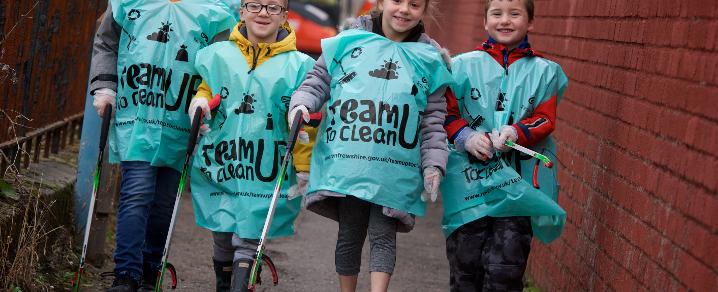 Keep Scotland Beautiful backs our Big Spring Clean
A highlight of our successful Team Up to Clean Up campaign last year, the Big Spring Clean is back and will take place throughout the month of April - and once again it has the support of national environmental charity Keep Scotland Beautiful.
More than 1000 volunteers took part over one weekend last year and with 30 litter picks already arranged, it's set to be bigger and better than ever.
Community groups, school pupils, businesses and inspired volunteers are set to grab their litter pickers to make their area a little brighter as the local community once again shows its support for the campaign.
Pete Leonard, Operations Director at Keep Scotland Beautiful, said: "We are delighted to support Renfrewshire Council's Team Up to Clean Up campaign and their Big Spring Clean to help tackle litter in communities.
"High levels of graffiti, litter and flytipping are closely linked to how safe people feel in their community. By successfully engaging with communities and businesses, Team Up to Clean Up has helped to make their local area both cleaner and safer for all its residents.
"They have been great supporters of our Clean Up Scotland Spring Clean and we've recorded more than 3,800 people taking action to tackle litter across Renfrewshire as part of last year's campaign."
How will we help you get involved?
We will:
provide all the equipment needed to volunteer;
offer support and advice from the Warden's Service
collect all the rubbish after the event through our StreetScene team.
To arrange a litter pick or for more information, contact the team via wardens.es@renfrewshire.gov.uk, call 0300 300 1375 or visit the dedicated page Big Spring Clean.
What is Team Up to Clean Up?
The Team Up to Clean Up campaign has been backed as part of a £2.5million investment to provide an enhanced street cleaning programme, gully clearing service, an enhanced Rapid Response Team tackling roadside litter and additional litter pickers across Renfrewshire.
The investment also supports the local community to take pride in their area and support volunteers to carry out litter picks of the local area to make neighbourhoods brighter, cleaner and more attractive places to live.
Published 18 March 2019.