Fairtrade Fortnight kicks off in Renfrewshire
Schools and community groups across Renfrewshire are showing their support for fair trade, as they take part in a variety of events and activities during Fairtrade Fortnight.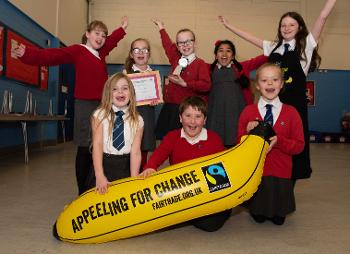 The fortnight marks the beginning of the Fairtrade Foundation's ambitious three-year campaign, titled 'She deserves a fair deal', which will strive to introduce a real living income for farmers and workers to ensure they can afford life's essentials.
Funded by the Renfrewshire Fairtrade Steering Group, awareness will be raised on everything from the cost of fair trade bananas and cocoa to the benefits of using Fairtrade footballs.
What's going on?
St James Primary (Renfrew)
St James Primary in Renfrew are working with Scottish company Bala Sport to teach their pupils about the benefits of using Fairtrade footballs and how the workers are paid the Fairtrade Premium - which ensures a fair price for their work. They're hosting a design a ball competition for the whole school and are also hosting a 'Beat the goalie' competition using the Fairtrade footballs.
Kirklandneuk Primary
Pupils in Primary 1 will host a fair trade breakfast where grandparents and carers will be invited along to learn about fair trade together, featuring hot chocolate and fair trade bananas.
Arkleston Primary
The school have received funding to have eco-friendly, bio-degradable cups and cutlery to be used in their classroom, as well as hosting a fair trade shop once a month selling fairtrade goods.
Lochwinnoch International Aid
This local group will host a coffee morning and provide a tasting stall at various local events to raise awareness. They'll also host a safari supper where dishes will be cooked from across the world using fairtrade ingredients.
Rainbow Turtle
Local fair trade organisation Rainbow Turtle are hosting an event for schools at St Mirren FC's stadium to educate children on fair trade and how they can make a difference.
How can I get involved?
You can join the Renfrewshire Fairtrade Steering Group which meets quarterly to raise local issues, identify how members can raise awareness and support funding applications which will raise awareness of fair trade in the area.
Schools are also encouraged to embrace the message by becoming a fair trade school through the Fairtrade Foundation, as well as competing to be named either primary school or secondary school of the year in Renfrewshire's fair trade awards.
Where can I get more information?
Fair trade in Renfrewshire
Fairtrade Fortnight
Renfrewshire Fairtrade Steering Group
Published 25 February 2019.