Follow Ploughlo Grittini, Thawin' Batty and Tony Gritzpatrick online
Our newly-named gritters are on the web, as well as the road, this year as part of a drive to highlight the dedicated work of our staff.
You can now track the whereabouts of the gritters on this website as they tackle priority routes on a 24/7 schedule throughout the winter period.
All nine of Renfrewshire's gritters have new names following our successful #NameOurGritters competition, which was designed to engage you in winter preparedness as part of the annual #RenReady campaign.
Ploughlo Grittini, Tony Gritzpatrick, Gerry Raffersleigh and William Wall-ice were famous faces from Renfrewshire chosen as winners, with local places Fridge of Weir, Gleniffer Brrraes and Paisleigh also making the cut, alongside Buddie Baltic.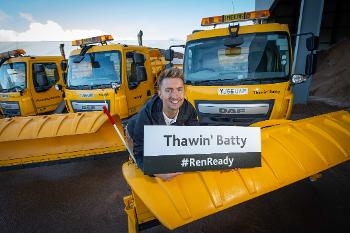 STV weatherman Sean Batty also has his very own gritter namesake, Thawin' Batty, and he's looking forward to finding out where he is throughout the winter.
Sean said: "As a weatherman, it is definitely one of the most interesting times of year but also very challenging. This winter, I have the additional excitement of watching out for Thawin Batty on the roads across Renfrewshire, and with the online tracker that will be even easier.
"We'll need to wait and see what Mother Nature has in store for us and whether it'll turn cold and icy or stay a more mild, wet and windy winter.
"Whatever the weather holds, I'll be thinking too about our road workers who'll be keeping us safe."
The competition saw more than 1600 suggestions submitted and more than 8000 votes cast as the nine winners were chosen to patrol Renfrewshire's streets this winter.
Each gritter is fitted with a tracking device and you can follow them as they clear snow and grit the roads in advance of, and during, freezing conditions.
For more information on winter preparedness and to follow the gritters, visit our Ready for Winter pages.
Published 8 February 2019.