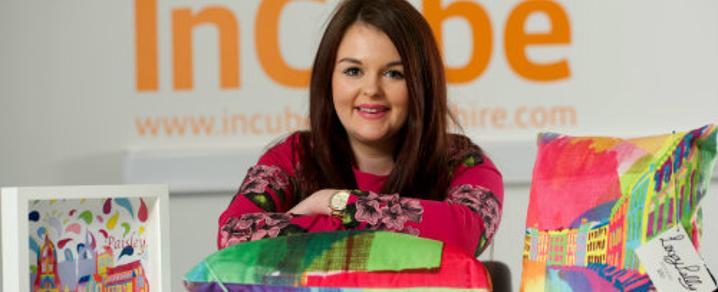 Start-Up Street project is under way
A cutting-edge project to bolster local businesses conceptualised by the council's economic development team is now underway.
Start-Up Street is supporting companies looking to make the leap into their first commercial premises by adapting vacant council-owned units on Paisley's George Street into a range of low-cost, high-quality business workspaces.
Each business will benefit from an on-site advisor, training space and a shared reception, with the space able to be rented for up to two years until they are ready to move to an alternative commercial space in Renfrewshire.
The project has been welcomed by local businesses, with a recent survey finding more than 80% were looking for subsidised space to grow, but faced barriers such as high costs and a lack of knowledge on the steps to take.
Textile designer Chloe Wright, founder of colour interior product company Loopy Lally Designs, said: "I work from home in the wee spare room, but I'm fast running out of space and from a professional perspective, I don't want to be inviting people into my house. My business is growing and moving into new premises is the natural next step for me so Start-Up Street is coming at the perfect time."
In an exciting development, Council staff are working closely with London Youth Support Trust, a charity which specialises in supporting young entrepreneurs from deprived backgrounds.
Ruth Cooper, Economic Development Manager, said: "Our Start-Up Street proposals were approved in December and are progressing well with the aim to open the premises by the summer.
"We've had lots of interest from businesses who can see the benefits it will bring and we're meeting with colleagues from the London Youth Support Trust to look at how we can work together and help local businesses achieve long-term sustainability."
If you know of a local business that could benefit, contact InCube Start-Up on 0300 300 1180 or email incube@renfrewshire.gov.uk
Published Wednesday 30 January 2019