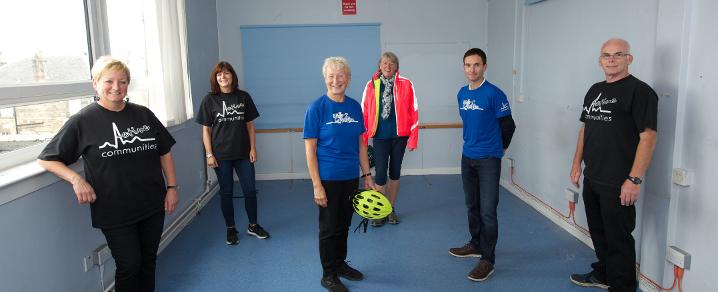 Beat the deadline for the next round of Renfrewshire's Community Empowerment Fund
Submit your applications for the Community Empowerment Fund before the next deadline of 16 January 2019.
The £1.5million fund is open to all community groups who want to take over ownership and running of a building or piece or land in their local area.
The fund is designed to assist local people to develop a Business Plan for the takeover of the asset, support you or your group to have the skills and capacity to manage and develop it, and provide the upfront capital investment in an asset.
The wealth of knowledge local people have to make our towns and villages better places to live, work and visit has been recognised and the Community Empowerment Fund offers the opportunity to bring these ideas to life.
Previous projects which have been awarded funding and support include:
£10,000 for Active Communities to carry out a feasibility study on the conversion of the former Johnstone Police Station into a local health hub;
£20,000 to assist in the relocation of the West End Growing Grounds Association to a site on Underwood Road and;
£10,000 for Paisley Community Trust to develop their businesses case for the transformation of the former Arnott's building into a cinema, arts venue and theatre.
The Community Planning team can support you to discuss the feasibility of your idea and identify how to take it forward, so get in touch and don't miss your opportunity.
The fund is just one of a number of ways that communities can make a difference to their local area, including joining your nearest Local Partnership and helping to shape decision making and award funding to groups in the local area.
Community groups and volunteers can also apply for the Green Spaces and Villages Investment Fund which provides funding and support to improve underused or neglected green spaces or take forward projects which will strengthen the character, identity and heritage of the local community.
To find out more, visit our Community Empowerment Fund pages, call 0141 618 7408 or email Community Planning.
Published 24 December 2018.