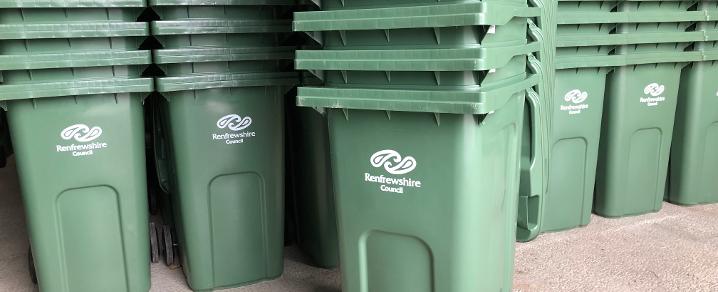 Your new recycling service is set to begin
The new bin collection service for Renfrewshire is set to begin next week after every home was provided with a new green recycling bin.
From Monday 3 December, you should now separate your recycling as part of a drive to improve the quality of material collected and reduce the costs associated with disposing of general waste - which were £4.1million in 2017.
The new green bin provided is for plastics, cans and glass and the blue bin will now be for paper, card and cardboard only.
If you're on a sack collection will be provided with a new green sack to separate their waste, with glass continuing to go directly to the nearest recycling centre.
To reduce any potential space issues, some flats and tenements may have been provided with shared bins for communal use and you would share responsibility for presenting these for collection.
Councillor Cathy McEwan, Convener of Renfrewshire Council's Infrastructure, Land and Environment Policy Board, said: "We've been working hard to ensure we provide residents with all the information they need to adapt to the new service and we would encourage all residents to read their information pack closely as it outlines what the changes mean for them.
"It's extremely important that we all consider if our waste could be recycled before throwing it into the grey bin and the new recycling bin should provide extra capacity to help people recycle.
"We're here to support residents with the new service so if you have any questions then please get in touch with us at the council."
Due to the overlap of the new service from the current provision, some people may receive an additional collection to ensure they do not wait longer than they should for a grey bin collection. Letters will be delivered to you outlining the exact date if you're affected.
Information packs specific to each household in Renfrewshire have been delivered to ensure you are fully informed of what the new service means for you and include a service guide, a full collection calendar for the next year and details on any change to your collection day.
If you haven't yet received their information pack then they should report this via the link on this page.
For more information and a full list of FAQs, visit the My Bins section or email mybins@renfrewshire.gov.uk.
Published 29 November 2018.