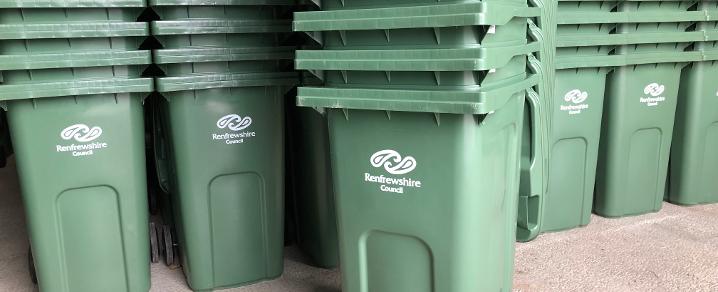 A week to go to the new collection service - here's what you need to know
This time next week the new bin collection service will start for everyone across Renfrewshire.
The new service will improve the quality of recycling we collect, raise our recycling rate in Renfrewshire and lower the cost of waste disposal (which was £4.1million in 2017) meaning we can reinvest in our key public services.
Here's what you need to know ahead of next week!
Information packs should be with everyone by 28 November and will include a service guide, stickers for existing bins and a calendar for the year ahead

Check your calendar closely as your collection day may have changed
The green bin will come with a sticker already attached!
If you've not got your info pack, report it here: www.renfrewshire.gov.uk/missinginfopack

The new green bins and sacks will be with you by 2 December
Use your new green bin for plastics, cans and glass

If you're on a sack collection, you'll be provided with new green sacks for plastics cans and bottles. Glass should continue to go to the nearest recycling centre.

The bluebin or sack is now for paper, card and cardboard only.
Some households may have a wait of over three weeks for a grey bin collection

We know that there is an overlap with the grey bin collection and an additional collection will be provided to those affected. You'll receive a letter advising of the exact date.

Too many bins have been delivered

If you're finding that space is an issue, you can contact our team via the details below and a Waste Advisor will help work out a solution. This could include providing shared bins for your block or tenement.

Recycling bins which are contaminated face not being collected

In the initial period of the new service, we recognise that it will take residents time to get used to the change. We'll work with residents and make allowances, however if there is repeated contamination over a period of time, we will firstly caution the household that this is happening. If there is no improvement moving forward, we will not be able to collect the bin until the contamination is removed.

Not all areas of Erskine are changing over now

Park Mains, Bargarran, Rashilee and North Barr will change in early 2019. We're currently speaking to residents about the new service for the area.
We're doing our best to answer all your questions on Facebook or Twitter, we're keep this up to ensure you are all set for the new service.
For more information, visit www.renfrewshire.gov.uk/mybins or email mybins@renfrewshire.gov.uk.
Published 23 November 2018.