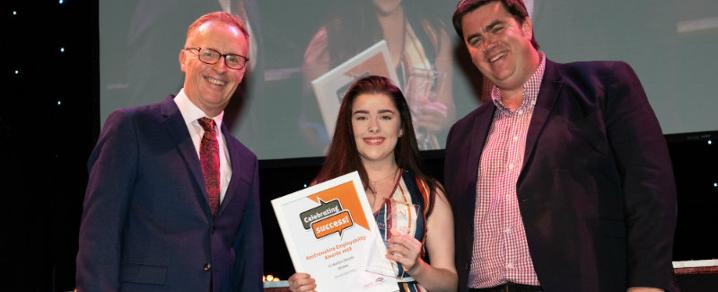 Meet the 2018 Employability Awards winners
Emma Gormley wanted to be a car mechanic, but feared being female might thwart her dream.
Undeterred, she spent her final year at Paisley Grammar building her CV in the best way possible, taking part in the Greenpower Programme at West College Scotland and studying a motor vehicle course part-time.
Greenpower inspires engineers of the future, tasking Renfrewshire school pupils to build and race a formula 24 race car.
The driving force behind Renfrewshire's Goldslam Team success - and setting the fastest lap time behind the wheel - Emma grew in confidence and after a rigorous recruitment process is now an apprentice mechanic at Arnold Clark, where she also acts as an ambassador encouraging more young females to consider a career in engineering.
Emma was one of nine award winners at the 2018 Renfrewshire Employability Awards, which celebrate the successes of people supported through the area's employability programmes.
She was joined by Ronnie Lockhart, who collected the Progression in Work prize after the Ferguslie Park resident turned his life around from 20 years unemployed to highly qualified gardener through a jobs programme with Linstone Housing and is now Grounds Maintenance Assistant at Tivoli landscaping services.
And Achiever of the year went to Amy Orr, who lacked the confidence to speak before completing a programme for young people with additional support needs, going on to address a conference of hundreds and interview successfully for a permanent housekeeper role at Hunterhill Care Home.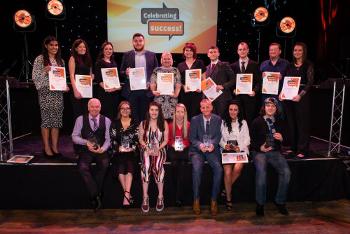 The nine winners:
Most Promising New Employee: Christopher Morris
Most Promising New Entrepreneur: Bobby Quinn
Top Intern: Rachael Gray
Best Trainee: Toni Elliot
CV Builder (Youth): Emma Gormley
CV Builder (Adult): Lindsay Murray
Apprentice of the Year: Rachael McGregor
Progression in Work: Ronnie Lockhart
Achiever of the Year: Amy Orr
The night concluded with Special Recognition awards for local businesses who have gone the extra mile in helping people prepare and progress in work. These awards went to Glencoats Afterschool Care, Wholesale Domestic Equipment Company Ltd and Linstone Housing Association.
The awards are organised by Invest in Renfrewshire on behalf of the Renfrewshire Employability Partnership and the 2018 awards were sponsored by RAMH, Renfrewshire Chamber of Commerce; Skills Development Scotland and Linstone Housing.
Top photo shows Emma Gormley pictured with Bryan Burnett and Bob Davidson, Programme Director, Developing the Young Workforce West. Inset photo shows the winners and finalists from the night.
Published on Wednesday 21 November