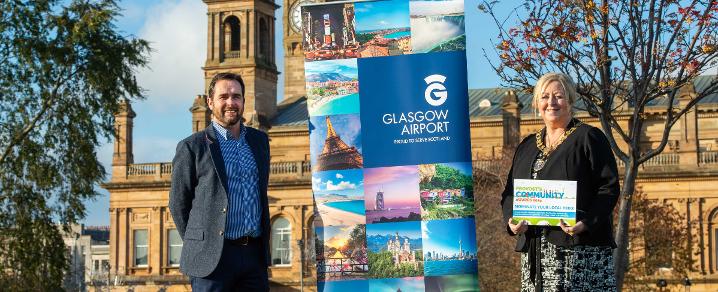 Recognise that special community volunteer in your area
The Provost's Community Awards are back for 2019 and we want your nominations for the Community Volunteer Award.
The award is once again sponsored by Glasgow Airport and sets out to recognise those who give their time and effort for nothing more than the knowledge that they are making a difference to their community.
Craig Martin, Head of HR at Glasgow Airport, said: "We're proud to serve Renfrewshire and as a major employer is the area it is important we support the Community Awards.
"It is particular appropriate for the airport to support the Community Volunteer award as we have strong links to the local area, and the vast majority of our staff live in the Renfrewshire area.
"We are keen to recognise the contribution of the significant number of everyday heroes who are making a real difference in their communities."
Nominations are now open and all entries must beat the deadline of Wednesday 12 December.
Craig added: "This is your opportunity to recognise the real unsung heroes in your community who are making a real difference to both their neighbourhoods and other people's lives so get your nominations in now!"
There are five other categories which anyone who lives or works in Renfrewshire can nominate in, which are Community Group, Sporting Achievement, Arts and Culture, Employee of the Year and the Carers Award.
The winners and their nominators will be invited to a special ceremony on Friday 15 March at the Lynnhurst Hotel to celebrate their achievements.
For more details and to submit your nomination, visit our dedicated Provost Awards pages attached or email provostawards@renfrewshire.gov.uk.
Published 13 November 2018.