Paisley first ever Scottish place to be crowned best town in UK & Ireland at Urbanism Awards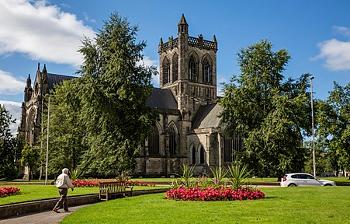 Paisley has been voted the best town in the UK & Ireland in recognition for its 'outstanding' efforts to transform its fortunes.
It took the 'Great Town' award at the Academy of Urbanism awards ceremony in London, beating off competition from shortlisted Barnsley in Yorkshire and Chelmsford in Essex.
Paisley is the first Scottish place to win the title since the inaugural awards in 2006.
Voted on by Academy members, five awards are given out annually, including for Europe's best city, and places are judged against a number of social, economic and environmental factors, including good governance and commercial success.
The Great Town award recognises the best, most enduring or most improved urban environments across the UK, Ireland and Europe, and this year focused on places that have been through transformation.
The judges ruled that although Paisley, which was one of five places shortlisted for the UK City of Culture 2021, didn't win that title, the process of developing their bid 'won over the people of Paisley and in turn permanently changed the narrative of the place and direction of travel.'
Local community groups have welcomed the award and Sharon McAulay from the town's Star Project said: "One year on from our City of Culture bid, it's a timely reminder that Paisley is a vibrant and beautiful cultural destination and is being recognised as such from far afield.
"This award belongs to the people of Paisley whose collective positivity and boundless energy have made this possible."
Alan McNiven, Chief Executive of Engage Renfrewshire, said: "This award is further recognition of the meaningful work being undertaken in the town by the council and all of its partners - work which has developed with the support of the people of Paisley and is essential for the prosperity of our local businesses, higher education sector and cultural community."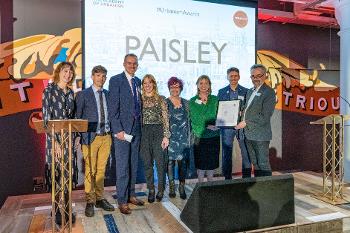 As part of the judging process, assessors visited Paisley in August and lead assessor, Michele Grant commended Paisley for using heritage and culture to change the narrative of the town.
She said: "Renfrewshire Council's UK City of Culture bid is an outstanding example of how to shape a collective vision and build community confidence that delivers in the long term. The bid and its preparation has transformed the way local people and external organisations and individuals think and speak about the town."
The council's investment in social housing was also praised as 'impressive', as was the 'deep and meaningful working between the Council and communities'.
David Rudlin, Chair of the Academy of Urbanism, said: "Home of the Paisley pattern - a town that has recovered from industrial decline by concentrating on the basics, good housing, affordable housing and has a strong town centre.
"It may not have been successful in being nominated as UK City of Culture 2021 but the bidding process has been incredibly positive as a catalyst for change."
Article published 9 November, 2018
Picture caption: Michele Grant, lead assessor on the assessment visits, Lewis Hubbard, Lewis Hubbard Engineering, Stuart McMillan, Renfrewshire Council, Louisa Mahon, Renfrewshire Council, Sharon McAulay, from the Paisley-based STAR Project, Sandra Black, Renfrewshire Council Chief Executive, Alasdair Morrison, Renfrewshire Council, David Rudlin, Chair of The Academy of Urbanism