Not even Kilimanjaro can stop Lochwinnoch's Corinne Hutton
Freedom of Renfrewshire recipient Corinne Hutton continues to inspire as she completes her latest heroic endeavour, conquering the world's highest free-standing mountain, Kilimanjaro.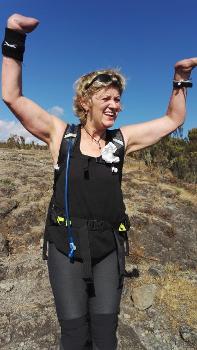 Forever an inspiration, she's believed to be the first female quadruple amputee to make it to the summit.
Corinne and her team of ten completed the climb over five days, raising more than £30,000 in the process as support continues to pour in from around the world.
Not only did she face the challenge with no hands and no feet, she also had to deal not so simple task of breathing at high altitude having lost two-thirds of her lung in 2017.
But it's just the latest in a series of challenges that Finding Your Feet founder Corinne has completed as a drive to prove what can be achieved no matter what adversity you have faced.
Corrine said: "I'm overwhelmed by the support for my wee hill climb from Renfrewshire locals and people all over the world.
"Climbing Kilimanjaro is tough already, but having no hands or feet and missing the majority of a lung presented its own set of challenges. I was struggling towards the end, but the summit was in sight so how could I stop?
"I need to thank the team of fundraisers who were with me, as well as the guides. They were an incredible support network for me.
"Climbing the highest free-standing mountain in the world was a personal challenge that was always on my bucket list, and I refuse to let any setbacks stop me. On top of that, Finding Your Feet is now known worldwide and this will allow us to help more amputees than ever."
Corinne was awarded the Freedom of Renfrewshire in 2016 as she was recognised for her determination, resilience and endeavour as she continues to show that losing her hands and feet won't hold her back.
She's an inspiration to us all and we're in awe of her achievements - well done Corinne!
For more information on Corinne and her fundraising, visit www.findyourfeet.net.