Five top tips for Renfrewshire start-ups
Around 25 new businesses launch in Renfrewshire each month with the support of Business Gateway across a diverse range of sectors, from dog walkers and hairdressers to consultancy and manufacturing.
Renfrewshire continues to boast great innovation, with many people making the most of new technologies as they take the first step towards realising their career ambitions.
There's lots of scary stats out there about the difficulties facing new businesses, so we asked Business Gateway Renfrewshire's start-up specialist James Edmonds to share his top tips to turn your business idea into a reality.
Lightbulb
The first thing you should do is get the idea out of your head and onto paper by writing a plan. It doesn't have to be an all-singing, all-dancing business plan, but once you write it down, you start to understand what your business looks like and can amend and refine it.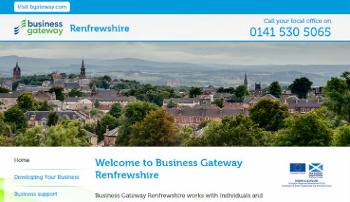 Research
There hasn't been anything completely new brought to the market place for over 100 years, we are all developing what's already there. Research who is doing something similar and look at who they are selling to and how they became successful. Research is key to understanding your market.
Finances
Ask yourself questions to get a handle of what it will cost to get the business up and running. Do I need premises or can I do it from home? Will I need staff? There is no right or wrong number, but generally people underestimate what they need, so it's vital to have a proper look at the finances. And there's lots of funding available, all tailored to your individual needs.
Weakness
Take all your research into your market, your finances and your plan and use this to consider your weaknesses. Think about where it might fall down. Are you a window cleaner that's scared of heights? By knowing your weaknesses you can consider ways to overcome these and even better, turn them into a strength.
Advice
Get as much free advice as you can. There's a multitude of places to get good advice without spending any money, including from ourselves at Business Gateway alongside organisations like Engage Renfrewshire, the Prince's Trust, New Enterprise Allowance and Bridge 2 Business, which helps college and university students. Everyone has a panic moment, it's perfectly natural and if you didn't have it, then you're probably doing something wrong. Soak up all the advice you can and it will help you on your way to delivering a profitable business.

James Edmonds is an Economic Development Officer with Business Gateway Renfrewshire, based at InCube on the High Street in Paisley.
There is a packed programme of free events throughout October and November, including start-up support, digital skills boost workshops and 1:1 surgeries. Visit Business Gateway Renfrewshire for the full programme or call 0141 530 2406 for more details.
Published on 10 October 2018