Grit's all in the name
As Renfrewshire's gritters start their engines ahead of the winter period, they're set for brand-new names as part of the annual #RenReady campaign.
A chance to celebrate Renfrewshire's people and places, the #NameOurGritters competition will name the nine gritters which Renfrewshire Council operates throughout the winter period.
When bad weather strikes, gritter drivers, carers, housing repairs and community meals teams are just a few of the heroes who keep services operating and ensure people are cared for even in the most difficult of conditions.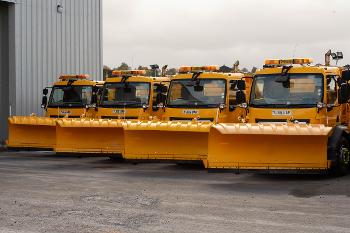 The competition embraces this theme and asks communities to nominate their Renfrewshire heroes, past and present, who they feel deserve to be on one of the vehicles keeping the area safe this winter.
It also recognises the places that make Renfrewshire a great place to live, work and visit and gives the community the chance to showcase them as part of the winter campaign.
The serious message behind the competition is to recognise the work that council staff do which often goes unnoticed as they work on a 24/7 schedule over the winter period, often through the night.
While it may not be their name on the winning gritters, they're very much the reason behind the ones that are.
The suggestion period will begin on Wednesday 3 October and will run until Sunday 14 October, before the names are whittled down by a judging panel including a gritter driver, Care at Home worker and a member of the local community.
The finalists will be split into groups and the community will be invited to vote on their winners through the council's Twitter page @RenCouncilNews.
Suggestions should have a clear link to the area and provide a strong reason for being one of the chosen winners.
Puns are welcome but while Sir Andy Flurry may win in Stirling, he would get knocked out in the first round in Renfrewshire.
For more information on the competition and how to stay safe this winter, visit the Ready for Winter section of the website.
Published 3 October 2018.