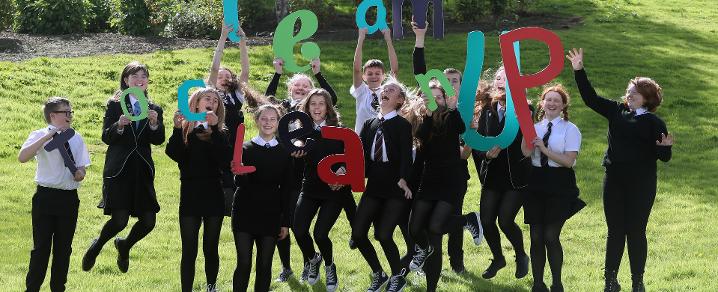 Sign up to make it a Spotless September in Renfrewshire
We're looking for enthusiastic volunteers to clean up Renfrewshire as part of the Spotless September Challenge, the latest event of the Team Up to Clean Up campaign.
Taking place over the weekend of 28-30 September, hundreds of community volunteers, schoolkids, businesses and council staff are expected to take part in a series of litter picks - will you be one of them?
Every town and village in Renfrewshire is being challenged to host a clean-up in their area, whether that's through a lone litter picker or every class in a school taking part.
The challenge will build on success of the Big Spring Clean, where more than 1000 volunteers turned out over one weekend in April to collect 500 bags of rubbish from the streets of Renfrewshire.
To celebrate the success of the campaign, and the weekend of the Challenge, a special thank you event is set to take place at Paisley Town Hall on Sunday 30 September - with all volunteers who have supported the campaign being invited for food and networking with like-minded people from across Renfrewshire.
Gleniffer High pupils are one of number of schools set to take part and their Head Teacher, Lisa Chalmers, said: "Our pupils are delighted to take part in the Spotless September Challenge and have been actively trying to keep our community clean through regular litter picks.
"Young people across the school have committed to working together to endorse the 'Team Up to Clean Up' message and are aware of the importance of this in our local community.
"It's great to show our neighbours that we respect our local area and appreciate the surroundings we have. "
Since the campaign was launched in October last year, more than 150 litter picks have taken place by inspired local volunteers.The Team Up to Clean Up campaign has been allocated £2.5million across five years to make a real difference to the cleanliness of the streets in Renfrewshire and improve the local environment.
As well as the support from local communities, an enhanced programme of operational activity is underway to clean gullies, sweep the roads and repair the roads infrastructure to ensure the campaign is a joint approach between the council and its residents.
If you're keen to take part in the Spotless September Challenge, call 0300 300 1375, email wardens.es@renfrewshire.gov.uk or visit www.renfrewshire.gov.uk/teamuptocleanup.
Published 13 September 2018.